ART VIEW
By PAULETTE THENNAUS
<![if !supportEmptyParas]> <![endif]>
CAMILLE CLAUDEL: SCULPTOR
<![if !supportEmptyParas]> <![endif]>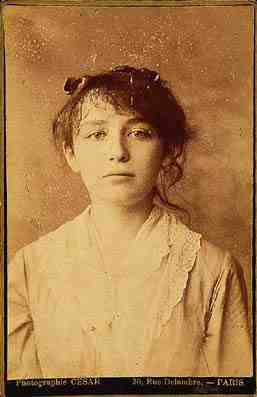 Let's start at the end of the story in the "Camille Claudel and Rodin: Fateful Encounters" exhibit now showing at the Detroit Institute of Art. For me, it's not so much that she has gone largely unrecognized for her work while Auguste Rodin is still a super star. It's definitely not that after a torrid affair, promise of marriage, probable abortion, she was abandoned. It is that she spent the last 30 years of her creative life in an insane asylum, committed by her brother. She and her passionate nude sculptures were an embarrassment to the family. Granted she destroyed much of her work, created scenes, and may even have tried to harm herself. Her highs and her lows were intense. Today, I have no doubt, she would have been diagnosed with bi-polar disorder and given simple daily medications and warnings to avoid stress. But it was back then, 1913 France, there was no separation in insane asylums between 'inmates' chronically paranoid and mad, violent criminals. Even in our own country up until the 1970s, inmates experiencing episodes were chained to the walls, sometimes naked, for long periods of time. I understand that she did write letters to the outside world but never was given the return correspondence. In effect, she was given a criminal, life-time sentence for her crime of passion in life and art.
Before this exhibit, I believed only a few of her sculptures survived, but 90 are known today. In her short 24 years of art she created the masterpiece, "Age of Maturity", an eternal love triangle in bronze. Unidealized, an older, sagging woman has her grip on a mature male figure. She leads him away from an imploring youthful woman who is on her knees. Only a parting hand is extended by the man to the begging younger woman. The caption for this sculpture reads "man abandoning youth, carried off by death." It is both autobiographical and a timeless allegory.
What makes Claudel's work as powerful as Rodin's is its sensitive nuances of flesh cast in bronze; its rhythmic flow of composition when capturing entwined figures; its mastery of scale in sculptures ranging from miniature to monumental. Unlike Rodin who had assistants, like Claudel, to carve the marble, Claudel accomplished the feat with her own hands. She gave an artist's touch to every chisel stroke. As to the genius of her work, after Rodin's death and her lock-up, her plaster casts in his studio where mistaken for his and the resulting bronzes where Òaccidentally" given his name!
On a small scale, her final revenge may be taking place. In the museum bookshop a deep rack of 'The Thinker' postcard was untouched, while every card of Claudel's sculptures was sold out. If you can't journey to Detroit, there is a video 'Camille Claudel.' It's 194 minutes with Isabelle Adjani and Gerard Depardieu starring in the 1989 French film.
The 'Camille Claudel & Rodin' exhibit is up till February 5, 2006. Ticket info at www.dia.org ($3.50 service charge).
<![if !supportEmptyParas]> <![endif]>
11/28/2005
<![if !supportEmptyParas]> <![endif]>