BACKTRACKING
Who Was Bob Zurke?
By Terry Hogan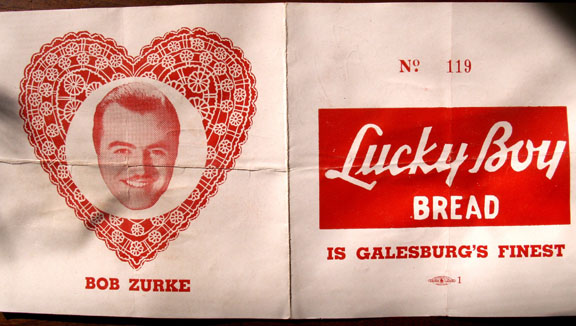 As some of you may recall, I collect "stuff" from and about the Lucky Boy Bakery and Lucky Boy Bread. The Lucky Boy Bakery was located on the north side of East Main Street in Galesburg, approximately opposite of the Post Office. It was a true bakery, baking fresh bread daily, loading warm bread into trucks and shipping it to local grocery stores. The old building was torn down a few years ago. One of the Galesburg antique store owner knows I collect Lucky Boy Bread items. He had a Lucky Boy item for me during my last return visit to Galesburg.
<![if !supportEmptyParas]> <![endif]>
The item was something that I had never seen before. It was a small piece of white paper, printed in red ink, showing the Lucky Boy Bread name and the phrase "Is Galesburg's Finest". Above was printed "No. 119". On the folded back was a red heart with a man's face centered. Below was the name "Bob Zurke". Inside, in pencil, was written "Regards, Bob Zurke". Well this was a little beyond the normal "stuff" I collected about Lucky Boy, but I bought it. Neither the store owner nor I knew who Bob Zurke was, nor did we have a clue about what this piece of paper was for.
<![if !supportEmptyParas]> <![endif]>
A subsequent Internet search has at least answered the question of who Bob Zurke was and has given me a rough estimate of the age of the item. Bob Zurke was a pianist and a band leader. He also used to play with Bob Crosby's orchestra (Bob, not Bing). He apparently was a skilled musician as he won the Downbeat magazine poll in 1939 for best piano player. But he also played hard in life and was well-known as being a hard drinker and undisciplined. He even spent some jail time for alimony problems.
<![if !supportEmptyParas]> <![endif]>
In 1939, he formed his own band, but it didn't survive long, falling apart in the spring of 1940. He performed at "The Hangover Club" in Los Angeles from August 1942 until his death in 1944. He was 32 years old when he died at the Los Angeles General Hospital. Shortly before his death, he recorded the background piano music for a Technicolor cartoon called "Jungle Jive".
<![if !supportEmptyParas]> <![endif]>
From this, we can conclude that the Lucky Boy Bread document was printed not later than 1944. As it appears to be autographed by Bob Zurke, and it bears a printed number (119), it may very well have been a ticket for an event, presumably in Galesburg, in which Bob Zurke was featured. The printed red heart around his face could suggest it was a Valentine event, but it might also just represent a dance.
<![if !supportEmptyParas]> <![endif]>
Whatever the nature of the event, it might have been for the employees of the Lucky Boy Bakery and/or its best customers. That is about as far as I can get.
<![if !supportEmptyParas]> <![endif]>
If we have any older ("calendar-challenged") folks with a good memory who can recall anything about this, I'd like to hear from them. On the other hand, if there are any researchers who are just waiting for the next challenging thing to researchÉhere it is.
<![if !supportEmptyParas]> <![endif]>
Editor permitting, I would be pleased to do a brief follow-up article sharing your excellent memory and/or research with the other two or three folks who may find this interesting.
<![if !supportEmptyParas]> <![endif]>