BACKTRACKING
<![if !supportEmptyParas]> <![endif]>
Orville H. Browning <![if !vml]>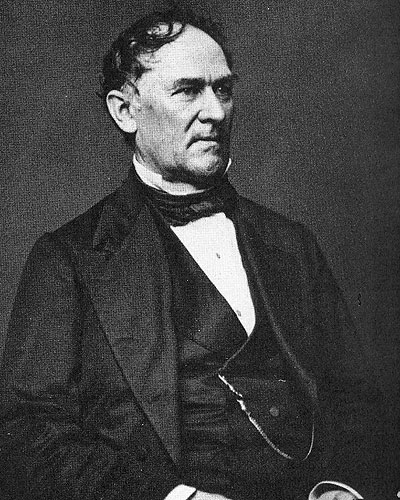 <![endif]>
<![if !supportEmptyParas]> <![endif]>
by Terry Hogan
<![if !supportEmptyParas]> <![endif]>
In Lincoln's personal life, he seemed to know many folks and had a good memory for faces and names. This was a great help to him as a local, state and national politician. But he also seemed to have only a few good friends who he personally confided in and to whom he turned to for trusted advice. One of these few close friends was Orville H. Browning, of Quincy, Illinois. Browning was to play a significant role as a friend, an advisor, and an astute politician in Illinois who significantly helped Lincoln. Despite this, Browning is not particularly well-known, even in his home state of Illinois. It is not a name you hear around Galesburg's history, although he had ties here. You probably don't hear his name in Monmouth's history, but he practiced law there from time to time. Presumably, being the insightful reader that you are, you have figured out that I'm referring to Orville Hickman Browning. The article title was probably at least a little helpful.
<![if !supportEmptyParas]> <![endif]>
I believe Lincoln first met Browning during the locally famous Black Hawk War (Duff, 1960; Donald, 1995), although it has also been reported that the two did not meet until 1836 when they were both elected to the state legislature (Hallwas, 1983). Both Lincoln and Browning had enlisted to serve to help deal with the alleged threat of an Indian uprising. At that time, Lincoln was essentially penniless and becoming a soldier promised a reliable income. It was also later to become a windfall for Lincoln when he was given two different parcels of land in Iowa for his military service.
<![if !supportEmptyParas]> <![endif]>
Orville Browning was a conservative, cautious lawyer from Quincy, Illinois. Lincoln and he became friends, as well as professional and political associates, after Lincoln became a lawyer and began dabbling in state politics. Browning played a major role in the development of the Illinois Whig party and later, in the Illinois Republican party.
<![if !supportEmptyParas]> <![endif]>
But perhaps a few stories will be a better option than a listing. Some years ago, I wrote an article about Lincoln being a "no show" at the U.S. Supreme Court. He failed to submit a written argument to the court and he failed to appear at the court to represent his client concerning a land ownership case for property in Warren County Illinois. The case, which was lost, in a close five to four decision, even without Lincoln's appearance, was referred to Lincoln by Orville Browning. Lincoln was expected to be in Washington, and being from Illinois and known to Browning, it seemed to be a logical choice.
<![if !supportEmptyParas]> <![endif]>
Browning had another tie-in with Warren County in a somewhat famous court case in Monmouth. Browning's client was the Mormon Prophet Joseph Smith. Stephen Douglas was the judge. Lincoln was involved in the case, but did not attend the trial. Browning won the case and Joseph Smith was not extradited to Missouri.
<![if !supportEmptyParas]> <![endif]>
Browning also had a run in with Stephen Douglas in the political area. Douglas defeated Browning in the 1844 election, taking Browning's seat in the Illinois House of Representatives.
<![if !supportEmptyParas]> <![endif]>
Lincoln also represented Browning in a law suit against the town of Springfield. Browning had suffered an injury due to a poorly maintained sidewalk. Although cities were generally immune from suits, Lincoln successfully argued that Springfield had an acknowledged responsibility to maintain it and failed to. Lincoln won the case for Browning.
<![if !supportEmptyParas]> <![endif]>
In 1839, Lincoln and Browning were two of the four Whigs who participated in a debate against four Illinois Democrats. Among the Democratic representatives was none other than the well-known Stephen Douglas. Lincoln and Douglas would later debate again in Illinois in the nationally- followed debates for the Illinois Senate seat.
<![if !supportEmptyParas]> <![endif]>
In 1856, Browning worked to build a consensus for the Illinois Republican platform that both the old Whig party members and the more liberal Republican members could support. He did so at Lincoln's request. The platform was adopted by the Illinois Republicans in Bloomington on May 29. On June 16, 1856, Lincoln was nominated as the Republican candidate for the U.S. Senate, with a united organization, based on Browning's consensus platform.
<![if !supportEmptyParas]> <![endif]>
This set up the great debates between Lincoln and Douglas, one of which was held in Galesburg at the Old Main of Knox College. (As an aside, Old Main is the only original site of the five debate locations that still stands.) Although Lincoln lost the election for the U. S. Senate, the relatively recent stringing of telegraph lines, allowed the entire nation to read, nearly verbatim, the debate of the issues. Lincoln lost the election, but through these debates, he became a national figure. The debates gave him the necessary national exposure for the 1860 presidential nominee for the Republican Party.
<![if !supportEmptyParas]> <![endif]>
Browning was a trustee of Knox College. In that role, he presumably played a major role in convincing Knox College to award Lincoln the first honorary degree given by Knox. In announcing the degree to the largely self-educated Lincoln, Browning advised "…consider yourself a 'scholar', as well as a 'gentleman' and deport yourself accordingly." (Knox College, 2005).
<![if !supportEmptyParas]> <![endif]>
For the Republican National Convention, held in Chicago, Lincoln was able to pick all four of the "at large" Republican delegates. Orville Browning was one of the four selected by Lincoln. The key function of the Convention was to nominate a Republican candidate for the President of the United States. Orville Browning is attributed as playing a major role in Lincoln's ultimate nomination by converting Edward Bates' (Missouri) supporters to Lincoln supporters when it became clear that Bates would not be successful.
<![if !supportEmptyParas]> <![endif]>
Frank (1961), who wrote a book about Lincoln as a lawyer, attributed the associations that Lincoln made while traveling on Illinois' 8th Circuit Court as critical for his political success: "The friendships formed there [Circuit Court] gave Lincoln the backing which made him a state leader in Illinois. David Davis was the manager of his campaign in Chicago. Leonard Swett, Browning, and many others of the Eight Circuit bar made up his strength."
<![if !supportEmptyParas]> <![endif]>
As we know, Lincoln was elected as President and took the office in 1860. After Lincoln was elected, but before he left Springfield for Washington, Lincoln and Browning met in Springfield. Browning wrote in his diary "Lincoln bears his honors meekly. As soon as other company had retired after I went in, he fell into his old habit of telling amusing stories, and we had a free and easy talk of an hour or two." (Hallwas, 1983).
<![if !supportEmptyParas]> <![endif]>
Lincoln asked Browning to go to Washington with him, but Browning answered that he could not. But he did travel by train with Lincoln as far as Indianapolis. During that trip, Lincoln gave Browning a draft copy of his inaugural speech for review and comment. Browning suggested that draft language that spoke of the reclaiming of federal forts taken by Confederates be deleted from the text. Browning felt the reference might be too inflammatory. Lincoln concurred with Browning's suggestion and deleted the reference.
<![if !supportEmptyParas]> <![endif]>
In 1862, Browning was on Lincoln's "short list" for nomination to the U.S. Supreme Court. But based on the pleadings of another Lincoln friend, Leonard Swett, Lincoln was talked into paying old political debts, and the position was given to David Davis. Davis had played a key role on Lincoln's nomination and, like Browning, had been part of the 8th Illinois Circuit Court group of lawyers, including Lincoln, Swett, and Browning (Frank, 1961). This decision may have been hard for Lincoln to make, as Browning had written to Lincoln, himself, on or about April 9, 1861, only five days after the Supreme Court position opened on April 4, after the death of Judge McLean.
<![if !supportEmptyParas]> <![endif]>
Browning wrote to Lincoln:
It is not without a great deal of embarrassment and hesitation that I have determined upon this course, but having determined upon it, I do not propose to offer any apology for addressing myself to the task. You know me about as well as I know myself; and in regards to my fitness for the office, you know me better - for you occupy a far better stand point for the formation of a fair and impartial judgment than I do. If, then, you shall think me competent to the duties of the office, and shall be at all inclined to gratify me in any thing, I say frankly, and without any sort of disguise, or affectation, that there is nothing in your power to do for me which would gratify me so much as this. It is an office peculiarly adapted to my tastes, and the faithful and honest performance of the duties of which would be my highest pride and ambition." (Duff, 1960).
<![if !supportEmptyParas]> <![endif]>
Perhaps the decision may have been made even more difficult by the subsequent receipt of a letter dated June 8, 1861, from Mrs. Browning, who was also a long-term friend of Lincoln. She also asked for his appointment, and noted that she had written the letter "…without his knowledge when he was attending court in Springfield" (Duff, 1960).
<![if !supportEmptyParas]> <![endif]>
However, Browning did end up in Washington, and continued to be both an advisor and a listener and friend to the new President Lincoln. Senator Stephen Douglas died while in office. The vacant seat was appointed by the Illinois Governor Yates. Perhaps through good fortune or perhaps by Lincoln's encouragement, Browning was selected to complete Douglas' senatorial term. This gave Lincoln both extra support in the Senate, and a confidential and trusted ear when it was greatly needed.
<![if !supportEmptyParas]> <![endif]>
Lincoln was greatly hounded by office seekers who daily invaded the White House. Given the security provided to recent presidents and the White House, it is hard to imagine the open door policy that existed in 1860. Browning tried to convince Lincoln to limit his availability to one and all as Browning could see that the office and the public demands were wearing Lincoln down. Lincoln would not heed Browning's advice, although he was helpful by providing friendship and non-demanding companionship reminiscent of easier times in Illinois.
<![if !supportEmptyParas]> <![endif]>
The importance of the Browning- President Lincoln friendship can be shown in two examples- one on personal tragedy, and the other on civil war strategy. When the Lincoln's son, William, died, Lincoln asked Orville Browning and his wife, Ekiza, to move into the White House for a short period of time (Hallwas, 1983). Orville took care of making the funeral arrangements, and his wife helped take care of Mrs. Lincoln.
<![if !supportEmptyParas]> <![endif]>
<![if !supportEmptyParas]> <![endif]>
Browning is attributed as being the author of the strategy to attempt to re-supply Fort Sumter. This re-supply effort caused the South to fire the first shots, thereby initiating the war and painting the Confederacy as the aggressor. According to Browning's suggestion to Lincoln, it was important for the northern states to have had the South be the aggressor (Donald, 1995). As the Civil War progressed, and emancipation and status of the slaves moved more to the forefront in politics and in the anticipated reconstruction of the South, Lincoln needed every bit of glue possible to hold the northern states together. Death, destruction, the draft, taxes, and the failure to achieve a quick victory over the South caused serious erosion in the support of the war in many parts of the North.
<![if !supportEmptyParas]> <![endif]>
The frankness of Lincoln's and Browning's discussions although undoubtedly helpful for Lincoln to form and evaluate his public positions, also strained the personal relationship of these two friends. In 1861, General Fremont (a Union general), acting on his own, proclaimed that all slaves belonging to people in his territory who took up arms against the United States were free. At this stage of the war, although the proclamation was warmly received by abolitionists, many voters and many soldiers, were not willing to continue fighting a war that appeared to have become a slavery issue. Lincoln was forced to issue an order, modifying the proclamation after Fremont refused to do it.
<![if !supportEmptyParas]> <![endif]>
Browning wrote a letter to Lincoln concerning Lincoln's reversal of the Fremont proclamation. Lincoln wrote a "private and confidential" letter to Browning on September 22, 1861. It is obvious that Lincoln took Browning's criticism personally by the tone of the first paragraph of the letter: "Yours of the 17th is just received; and coming from you, I confess it astonishes me. That you should object to my adhering to a law which you had assisted in making and presenting to me less than a month before is odd enough. But this is a very small part. General Fremont's proclamation as to confiscation of property and the liberation of slaves is purely political and not within the range of military law or necessity."
<![if !supportEmptyParas]> <![endif]>
Later, in the same letter, Lincoln chided Browning: "…if you will give up your restlessness for new positions, and back me manfully on the grounds upon which you and other kind friends gave me the election and approved in my public documents, we shall go through triumphantly."
(Letter from Lincoln to Browning, dated September 22, 1861, published in Stern, 1940, pages 680-681)
<![if !supportEmptyParas]> <![endif]>
In fact, the emancipation issue became a dividing issue between Browning and Lincoln and caused an irreparable harm to their friendship, but this time, each man had reversed their position from the earlier Fremont proclamation disagreement. While Browning and Lincoln remained friends, the divisiveness of these issues were to effectively eliminate Browning's role as a personal advisor and sounding board for Lincoln. Browning argued against abolition of slavery. He felt that his friend, Lincoln, had fallen under the control of abolitionists and that endangered the support of the northern populace for the war. Browning wrote in his personal diary on January 30, 1863, "The counsels of myself and those who sympathize with me are no longer heeded. I am despondent, and have but little hope left for the Republic." (Hallwas, 1983).
<![if !supportEmptyParas]> <![endif]>
Browning, at the end of the Senatorial term that he filled, returned to Quincy and turned once again to his law practice. In that capacity, he still remained friends with Lincoln and often used that friendship to "open doors" for his clients, not unlike current-day lobbyists. In fact, Browning was in Washington and visited Lincoln at the White House on April 14, 1865, the day Lincoln was shot at Ford's Theater.
After Lincoln's death, Browning was to once again serve in the national government. Browning was the Secretary of the Interior (1866-1869) in the Johnson administration. He also served as the Attorney General in 1868.
<![if !supportEmptyParas]> <![endif]>
In 1869, Browning returned to Quincy and took up his law practice for the last time. His law partner from 1837 to 1873 was Nehemiah Bushnell. Bushnell had been the president of the Northern Cross Railroad. The town of Bushnell (Illinois) was named for him.
<![if !supportEmptyParas]> <![endif]>
Browning died on August 10, 1881. He had served Lincoln well as a good friend, an advisor, and a supporter during those frequent moods of depression that Lincoln was noted for. It is unfortunate that his frankness concerning the fundamental difference of slavery tainted the exercise of his role in the remaining time of Lincoln's term.
<![if !supportEmptyParas]> <![endif]>
Browning was one of Illinois' own.
<![if !supportEmptyParas]> <![endif]>
References:
<![if !supportEmptyParas]> <![endif]>
Donald, David. 1995. Lincoln. Simon & Schuster. New York.
Duff, John. 1961. A. Lincoln, Prairie Lawyer. Bramhall House. New York
Frank, John. 1961. Lincoln as a Lawyer. University of Illinois Press, Urbana.
Hallwas, John. 1983. Western Illinois Heritage. Illinois Heritage Press. Macomb, IL
Knox College. May 2005. Commencement 2005. http://www.knox.edu/x9684.xml
Stern, Philip. 1940. The Life and Writings of Abraham Lincoln. The Modern Library. New York.
The Lincoln Institute. 2005. Orville H. Browning (1806-1881). "Mr. Lincoln and Friends" website. www.mrlincolnandfriends.org
The Lincoln Institute. 2005. Mr. Lincoln's White House. http://www.mrlincolnswhitehouse.org
<![if !supportEmptyParas]> <![endif]>
<![if !supportEmptyParas]> <![endif]>
<![if !supportEmptyParas]> <![endif]>
<![if !supportEmptyParas]> <![endif]>
<![if !supportEmptyParas]> <![endif]>
<![if !supportEmptyParas]> <![endif]>