BACKTRACKING
Homeburg Revisited
by Terry Hogan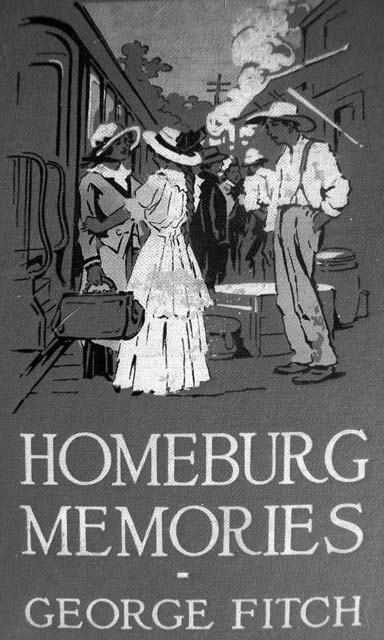 George Fitch, among other things, wrote a novel titled "Old Siwash". It was a bit of a tongue-in-check, slightly bigger-than life story based loosely on his student days at Knox College. Little did George know that the choice of the name "Siwash" would, in a few generations, run head on into the realm of political correctness. Knox College turned its back on history and on its own alumni and "Old Siwash" was cast aside. I have addressed my views and the views of a fair number of other Knox alumni in the past. I need not do that again here.
Instead, it is time to visit, or perhaps revisit, the mythical town of Homeburg. Homeburg is also a creation of George Fitch. In 1915, "Homeburg Memories" appears and one can see more than a few similarities between Homeburg and Galesburg. Homeburg is a small, Midwestern town whose life turns on the coming and going of the passenger train. Few secrets last long in Homeburg. The comings and the goings of folks are tracked by the common folk and the newspaper reporter, all watching who arrives and departs on the 4:11pm train at Homeburg.
On reading the book, you can readily place the mythical Homeburg in Illinois. One of the first things to be discovered by Homeburg residents of new arrivals from the 4:11 train is whether they "pull for" the Chicago Cubs or the White Sox. The railroad, we learn, is the "Great F. C. & L. Railroad" which one might associate with the C.B. & Q. railroad.
Perhaps the most telling aspect of the story is when Fitch writes about "the servant question". He is generally poking fun at the self-proclaimed ruling class in Homeburg, but the Galesburg roots become apparent:
"A hired girl in Homeburg is a very reasonable creature. We never have any trouble with them, and they have very little with us. We usually catch them green and wild, just off the steamer, and they come to us equipped with a thorough working knowledge of the Swedish language and nothing else to speak of."
With the reference to the Swedish immigrant hired girls, it clearly places Homeburg in or near a center of transplanted Swedish culture. Fitch does everything but place Old Siwash in Homeburg.
So how does Galesburg (Oops, Homeburg) get treated by George Fitch? Just a sample will suffice:
"News in Homeburg? News in a town where an ice-cream social is a sensation and a dog fight suspends business for three hours? News in a town where it takes a couple five years to work up a wedding and seven kinds of wedding cake is the only news in it? Where the city marshal hasn't made an arrest for two years because no one has done anything after nine P. M. except snore, and where they have to put up the lamps in pairs to keep them from getting lonesome?"
I suppose this may be why I haven't heard an upwelling of support to embrace Homeburg as being Galesburg. But in a town that is struggling to bring a few more dollars into the city limits from the cars that speeds by on I-74, perhaps it should. In bad economic times, one cannot literally afford to take oneself too seriously.
Welcome to George Fitch's Homeburg. Stop in and let us help you make some good memories of when towns noticed your arrival. We still do. Stop in, slow down, and watch a few trains go by. Meet a few of the locals and find out how life was, when it was slower. And be sure and drive by Old Siwash where Old Main still stands. Old Main has seen it all: from Abe Lincoln to George Fitch.
Homeburg, your home away from home.
6/18/09