The Military Carr
---

The Carr family has shaped Galesburg. Clark E. Carr helped entice the Santa Fe Railway to Galesburg and his father, Clark M. Carr, played a role in the bringing of the CB&Q to Galesburg (see Zephyr article ''Galesburg's Railroad Carrs,'' August 5, 1999). The railroads, in turn, spurred economic development and the influx of Irish, Mexicans, Swedes, Germans and others to fill jobs. They brought new languages, cultures, and traditions to help shape Galesburg into what it is today. Growth and the influx of new ideas contributed to the breaking of the conservative religious views of Galesburg's founders.

Clark E. Carr was a ''mover and a shaker''-- a politician, a friend of Lincoln, and a subject of some gentle amusement by Carl Sandburg who poked fun at his girth. He became a Minister to Denmark, a published author, an editor of the Galesburg paper, The Republican, and was the first Secretary of the Galesburg Gas & Coke Company, organized in 1860.

Not to be outdone, Clark E. Carr's older brother, Eugene Asa Carr, was becoming a national hero, a Medal of Honor recipient, a survivor of the Civil War and Indian wars, and a General. He was to rub elbows with the likes of Generals Sherman, Grant, and Custer, ''Buffalo Bill'' Cody, and ''Wild Bill'' Hickok. Eugene Asa Carr was to become nationally renowned as ''the black-bearded Cossack.'' He was trained to become the Military Carr.

The Carrs were English descendants. Benjamin Carr, of London, died about 1635, and had four children. The eldest son, Robert and his brother Caleb, traveled to America to live with William Carr, their late father's brother. William Carr had traveled to America in 1631 with Roger Williams. William Carr became a significant landowner in Rhode Island. Rhode Island was to be the home of Carrs for nearly 200 years. In the 1790s, the Galesburg Carr's ancestor, Reverend Clark Carr, moved from Rhode Island to New York. In New York, Clark Merwin Carr (born in 1895), the father of Clark E. Carr and Eugene Asa Carr, was raised. Clark Merwin Carr was to marry Delia Ann Tory on May 3, 1829.

Both Clark E. Carr and Eugene Asa Carr were born at Boston Corners, N. Y. Eugene was the oldest son of Clark M. Carr and Delia (Torrey) Carr, born March 10, 1830. Unlike his younger brother, Clark E. Carr who moved from New York with his father to Galesburg in 1850, Eugene Asa Carr had already left home and entered West Point, graduating on July 1, 1850.

Eugene's first assignment was at the Carlisle, Penn. cavalry barracks. He received his commission as a 2nd Lt. in the Regiment of Mounted Rifles (which was later to become the Third Cavalry) at the Jefferson Barracks, near St. Louis in 1851. From this time until the start of the Civil War, Eugene was assigned to various ''frontier duties'' and was promoted to Captain. In 1854, while fighting a group of Apaches that had made off with some cattle, he was wounded by an arrow. It appears that while in pursuit of a band of Indians, Eugene, in over-exuberance, out-distanced his troops. He found himself, alone, and surrounded by several braves. By the time the troops arrived, he had suffered an arm wound. It left a scar but in later years he played down the wound, claiming it was a dull arrow.

With the outbreak of the Civil War, Eugene's success skyrocketed. He was promoted to Lt. Colonel for his actions in the battle of Wilson's Creek on August 9, 1861. Shortly afterwards, he was made a Colonel of the Third Illinois Cavalry. From there, he was made acting Brigadier General, reporting to Gen. John Fremont. Early the next year, he took command of a division of the Army of the Southwest.

At the Battle of Pea Ridge (March 6-8, 1862), Eugene Carr was wounded three or four times, while defending a critical position, protecting the rear of union forces, caught by a flanking movement by confederate troops. Eugene Carr's headquarters set up at Elkhorn Tavern, found itself in the middle of the battle, with both confederate and union artillery firing rounds overhead. A correspondent for the New York Herald who unfortunately found himself at the Elkhorn Tavern headquarters during the battle reported, ''A shell bursting upon a company of infantry beside the tavern; another fell among horse teams in the rear yard; a solid shot struck the building and passed completely through. Polly Cox, her son, and his wife were not injured; at the first shriek of an overhead shell they had taken refuge in the cellar.''

After 11 hours of fighting, brevet General Carr was relieved, suffering from three or four (reports vary) wounds. Elkhart Tavern, held for as long as possible, and then yielded in a delaying action, was, by the end of the day, a confederate headquarters. With nightfall, the fighting ceased, and sentinels were established on both sides. On the Union side, it is likely that the Confederates use of Cherokee Indians in the fight was discussed. It was reported that the Union sentinels were placed so near to the Confederate lines that they could hear the sounds of ''Šthe tread of their sentinels and the low hum of conversation but a few yards away.''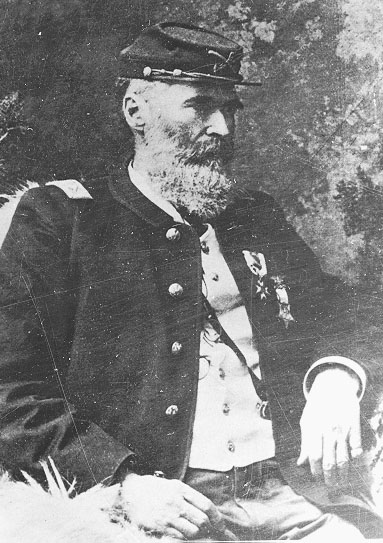 It was not until January 16, 1894 that Eugene Asa Carr was the recipient of the Congressional Medal of Honor for his conduct at Pea Ridge, Ark. on March 7, 1862. It seems to be symptomatic of the love/hate relationship that Eugene Asa Carr had with his military superiors. His Citation reads simply ''Directed the deployment of his command and held his ground under a brisk fire of shot and shell in which he was several times wounded.''
His achievements in the Civil War continued, with involvement at Vicksburg in May 1863, and later in the capture of Little Rock. By the end of the Civil War, he was holding the rank of major general, and was known as ''the black-bearded Cossack.''
After the war, he continued his military service, however, his rank reverted to Major. On December 2, 1868, he led seven troops of the 5th Calvary and one company of the 3rd Infantry from Ft Lyon, Colo. His orders were to take the troops and supplies and to meet up with another unit to set up a more distant base. Unfortunately, a blizzard arrived, causing delay and much misery. After finally meeting up and setting up a base, no Indians were encountered. Many of the civilian teamsters quit to escape the miserable conditions. On January 8th, the new base was left and the troops returned to Ft. Lyon, after the loss of 181 animals and two soldiers dying from exposure. Among Carr's civilian scouts were James Butler (''Wild Bill'') Hickok and William F. (''Buffalo Bill'') Cody.
Eugene Carr also spent some time near Tucson, Ariz., at Fort Lowell as a Lt. Colonel. He served as the fort's commander. The fort was built at the same site that the Hohokam had selected approximately 1600 years earlier-- at the confluence of the Pantano and Tanque Verde washes. This location provided a water supply. Initially, the fort was a miserable place with floors of dirt, and leaking rooks in the rainy season. As construction went forward, local soil was used to make adobe brick for the construction. Pottery fragments from the earlier Hohokam settlement became a part of the adobe bricks, still visible today. Early on, water had to be hauled on horse-drawn carts. Water rights issues arouse between the farmers and the military. At one point, the military burned down the dwellings of some of the settlers. Malaria too became a problem. Over time, conditions improved. Wood floors, tin roofs, and furniture from the East, replaced the more rustic life. Officers began to bring their wives to stay with them at Fort Lowell.
Eugene Carr's last Indian campaign was in December 1890, which led to the Wounded Knee incident in South Dakota. He was later promoted to Brigadier General, effective July 1892. He was then transferred to Washington, D.C. Eugene Asa Carr retired from the army in February 1893. Even this final recognition by promotion was fringed with controversy. His political supporters had committed that he would promptly retire if promoted, thereby returning the position open for another promotion to occur. Unfortunately, Eugene Carr was not aware of ''the deal'' when he accepted the promotion. But the deal was made and was enforced. He died December 2, 1910 in Washington, D.C. and is buried at West Point.
Eugene Asa Carr did live long enough to sit in the royal box at Madison Square Garden, in 1907. William (Buffalo Bill) Cody was the attraction for the evening. Eugene sat with his wife and grandson, and watched Buffalo Bill ride into the arena on a cream-colored horse. Eugene Carr, with wife and grandson, watched the recreation of the battle of Summit Springs, complete with men in the blue uniforms and markings of the 5th U.S. Cavalry, led by a major general, representing Eugene Asa Carr. It was the recreation of events that occurred nearly 40 years earlier. Such battles were history by 1907. The fame and glory of his past were lost in the rush of the new country into its future. Civil War generals and Indian fighters had to make way for new frontiers and new wars on the horizon.
Like many of America's professional military, Eugene Asa Carr had no true home, no deep roots. This is often one of many prices paid by the career military. His birthplace was abandoned when his father and brothers moved to Galesburg. As such, Galesburg become a transplanted home for him. Even though he wasn't born here, never lived here in any permanent way, Galesburg became his home away from the military base.
In 1863, after the Battle of Vicksburg, Eugene had a recurrence of malaria. He traveled to Galesburg for recovery. This may have been his first or one of his first extended stays at Galesburg.
After marrying Mary Magwire, a St. Louis woman, in St. Louis on October 12, 1865, Eugene and his wife traveled to Galesburg and Chicago during their 20-day vacation. This trip was not without family tension. Mary Magwire was from a good Catholic family and the Carrs had a strong Baptist family history. Catholics were not well-tolerated in many towns, including Galesburg, at the time. Mrs. Magwire had told her daughter not to give cause to upset the Galesburg Carr's-- but upset she and her husband, did. On the first Sunday after arriving in Galesburg, Eugene Asa Carr and his Catholic bride attended Galesburg's St. Patrick's Church. The occurrence of General Carr, son and brother of the Galesburg Carr, attending the Catholic Church did not go unobserved. It is reported that most of the members were poor (Irish?) railroad laborers and their families. The story even became more widely told, when it was reported that Eugene gave a $5 donation.
To put the final topping to the morning, Eugene and his bride failed to return home in time for the morning Baptist Church service. It seems Eugene's father had cherished plans of introducing his successful and famous war hero at the church. However, all was not lost, the family was preserved, by all attending an afternoon church service.
Eugene was also to make several additional trips to Galesburg in 1875 and 1876 to see his father and brother, and to attend his father's funeral in April 1876. With the death of his father, one might expect the limited ties to Galesburg would have been broken.
However General Eugene Asa Carr would return to Galesburg during a leave of absence and when taking an 8-month leave in 1891. He chose Galesburg as a temporary home when, during an extended leave of absence, he sought a military court of inquiry to clear his name of wrongful charges made by a superior officer.
Eugene Asa Carr was an Indian fighter, Civil War hero, General and Medal of Honor recipient. He was also one to argue with his superiors and was forced into retirement before he was ready. He was the ''Military Carr'' of Galesburg's Carr family.
Additional information:
Hogan, Terry. 1999. ''Galesburg's Railroad Carrs.'' August 5, 1999 issue, Zephyr. (http://www.thezephyr.com/backtrak)
King, James T. 1963. ''War Eagle, A life of General Eugene A. Carr.'' University of Nebraska Press, Lincoln.

---
Uploaded to The Zephyr Online November 17, 1999

---
Back to The Zephyr

---