BACKTRACKING
It's a Small World
by Terry Hogan
It's a Small world. At least it was in Galesburg in the 1950's. Bill Small was Galesburg's mayor in 1958 when it became an All American City. Prior to his term as Galesburg's mayor, he had been the Illinois State Attorney for Knox County. He recently celebrated his 90th birthday in Indianapolis, where he now lives. His daughter put together a scrap book of memorable events and photos. She also got a key to the City of
Galesburg.
I'm not much on doing interviews. I never quite seem to know what to ask. But Bill, at age 90, is outgoing, friendly, and has a remarkable memory, and a wide range of interesting stories accumulated to date. He recalls his years in Galesburg, and earlier, with fondness.
Like many of Bill's contemporaries, he served in WWII. He went through Officers Candidate School (OCS) and became an Army officer. When he left the army after the end of WWII, he was a captain. This is, in itself, not all that newsworthy. But his officer's training was notable. His OCS training was conducted in Miami, Florida – not a bad tour of duty during the war. Even better, he had a notable classmate. He was Clark Gable. Bill, chuckling, speculates that Clark Gable had more fun on the weekends at Miami than he did. The class graduated on October 28, 1942, producing another batch of Army Air Corps 2nd Lts. (This was before the Air Force was formed.)
After the war, Bill attended the University of Illinois, becoming a lawyer. That led him to Galesburg where he became the State Attorney for Knox County. He went from that position to being elected Galesburg's mayor. He has a few interesting stories about this period of his life.
He recalled a raid on the Harbor Lights Supper Club in Galesburg. The purpose was to shut down an illegal gambling operation held at the facility behind locked doors. The operation was not a well-kept secret and complaints about the operation were received.
He also recalled the porch bombing of a well-known economics professor of Knox College. Dr. Alvin ("Bro") White was an activist or citizen reformer in Galesburg. Dr. White, along with Rev. Fred Gilson and Rev. Alan Jenkins were very active in trying to shut down gambling, underage drinking and prostitution. It is also reported that the group played an important role in the discovery of a "white slavery ring" that moved women in Galesburg, and other Illinois towns (Monson, 2002). Apparently Dr. White's activities must have upset someone as a bomb was placed on his home's front porch. It exploded, damaging the porch, but luckily not causing physical harm to anyone. To my knowledge, nobody was identified as the bomber. The event did, I'm told, get national attention, with an article appearing in the Parade Magazine.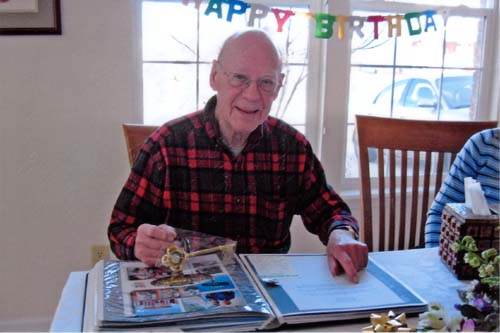 Although Mr. Small was the mayor of Galesburg when it was named an All American City, he quickly noted that it was Dr. White who filled out the forms and was the strong advocate for Galesburg. This was also the period that Galesburg was involved with solving its water supply problem by running a pipe line from the Mississippi River to Galesburg. Even I remember the signs in a public toilet in a small town along the Mississippi. It read, "Flush the toilet twice, Galesburg needs the water".
Bill is not the only one to have some interesting stories. His wife is Lass Small, who is the author of approximately 65 romance novels, most of which were published by Harlequin. According to Bill, she generally wrote three or four novels a year. Lass also published several romance novels under the name "Cally Hughes". Although she no longer writes, her books are readily available on the Internet. A partial listing of her published books can be found at www.romantictimes.com/authors_profile.php.
References
Monson, Bill. 2002. Year in Review – 1952. The Zephyr.
www.thezephyr.com/monson1952.htm
Reichel, Martin. 2008. Personal Communication.
Romantic Times Book Reviews. www.romantictimes.com/authors_profile.php
Small, Bill. 2008. Personal Communication.
Winick, Norm. 2008. Personal Communication.
2/28/08