Those Darn Darners

by Jim Woods

---

Darners were an invention of necessity to prevent skewering fingers with sharp needles. In the not-so-distant past, when items of apparel developed holes from wear or accident, they were repaired. Clothing was expensive and often cloth was difficult to buy. People, through necessity, repaired and patched their clothing and darning was one of the many methods for doing so. Although we generally associate darning with socks, it can include gloves and other articles of clothing as well.

The first known darning aids date back to the 1600s. The first known sock repair goes back to 300 to 400 a.d. to a Roman felt sock that contained several repairs.

The first darners were likely carved wood. Another one that came along was making a small hole in a chicken or goose egg, removing the contents, and filling it with plaster of paris.

Darning eggs have been made of various kinds of wood, glass porcelain, pottery, stoneware, rubber and a variety of plastics. In addition, a number of natural and manufactured forms have been used­­ such as coconuts, potatoes, gourds, sea shells, nest eggs, light bulbs water tumblers, bottle stoppers, fish net floats, pestles, insulators, egg cups, door knobs, toy tops, marbles, and paperweights.

Shapes of darners vary although most fall into the categories of egg-shaped, mushroom shaped, or foot-form shaped. Some provided other functions­­ with removable handles or tops for needle and thread storage and some even contained a battery powered light to better see what was being mended.

Some of the mushroom-shaped had a flat metal or spring band around the head to hold the piece being mended in place. Some of the darners contained more than one kind of material­­ such as an egg-shaped wood darner with a sterling or bone handle.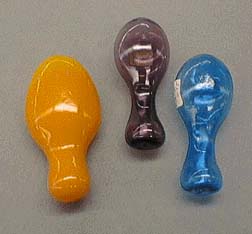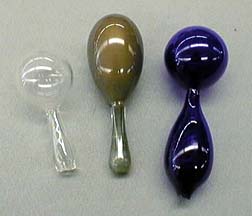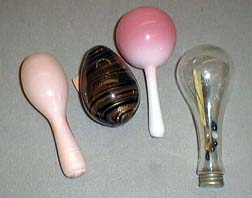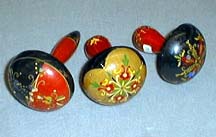 Collector' s prices vary from around $5 on the low end to perhaps $1,000 on the high end. Wood darners that unscrew to hold needles and or thread or of colorful laminated woods bring the highest prices for this material­­ in the range of $30 to $150. Sterling handled eggs are in the range of $60 to $150. Plastics range from $5 to $30. High quality glass darners can cost more than $700 with a beginning range of $40. The pricier glass darners tend to be art glass and are scarce to rare. Of course, as with any collectible, the price drops radically for less than mint condition.
A book I can recommend that gives the history, pictures and provides pricing information is Darn It by Wayne Muller and published by L-W Book Sales, P.O. Box 69, Gas City, IN 46933. The last list price on the book that I've seen is $19.95.
For questions or comments, write Jim Woods, Zephyr, P.O. Box 1, Galesburg, IL 61402 or e-mail zephyr@misslink.net.
---
This article posted to Zephyr online January 24, 1997