Off the Shelf
by Judith K. Squires
A tale of two brothers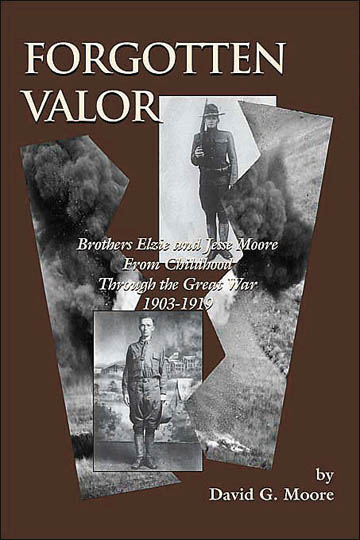 David G. Moore, Forgotten Valor: Brothers Elzie And Jesse Moore From Childhood Through The Great War 1903-1919, Cork Hill Press, 2004, $36.95 and $21.75.
David G. Moore, who is known by many in Galesburg as one of the finest teachers they ever encountered at Galesburg High School, has written a fascinating account of his father and uncle, both of whom served heroically in World War I. I thoroughly enjoyed his account of the hardscrabble times the boys grew up in, when they were left motherless at an early age and taken in by relatives. Though the brothers had very different personalities, they were always aware of a great bond with each other. Elzie, the youngest, is an extrovert and gifted with a sense of adventure and great love of the outdoors. Jessie is the quieter of the two and even as a young child has an extraordinary feeling of responsibility and an incredible work ethic. The intensity of the work required just to make a basic living in rural western Illinois during the early days of the twentieth century seems relentlessly hard to the modern reader and I was also struck by how much transportation and communication technology has affected our lives in the past hundred years.
At the outbreak of the war, Elzie, the younger brother, is eager to join up. Even though he is underage, he manages to talk his way into the Army and becomes a first-rate soldier. He has already learned to become an expert marksman and outdoorsman in his youth and indeed seems to be a "natural" at soldiering. Jesse, the older brother, is a bit more reluctant to enlist, given the fact that he is newly married and just embarking on a new job, but he eventually heeds the call to fight in the Great War. I won't give away what happens to these fine young Americans on the battlefields of France, but I will say that David Moore has written a fine tribute to his father and uncle. I am happy that he has seen to it that their patriotism and sacrifice will now be remembered.
Forgotten Valor is available at the Galesburg Public Library and from amazon.com in both hardcover and paperback.