Off the shelf by Lynn McKeown
<![if !supportEmptyParas]> <![endif]>
Clyde S. Kilby, Minority of One, Eerdmans, 1959, reprinted 1982.
<![if !supportEmptyParas]> <![endif]>
Jonathan Blanchard is one of the few former Galesburg residents besides the famous twosome, Sandburg and Reagan, to be the subject of a full-length biography. In Blanchard's case it is ³Minority of One,² published 46 years ago by Wheaton College professor Clyde Kilby. It tells the story of a fascinating 5; and somewhat contradictory 5; man.
Blanchard was president of Knox College from 1845 to 1857. Galesburg historian Earnest Calkins called him the ³ablest man² in the early history of the college. By the time he came to assume the college presidency Blanchard already had a reputation as a leader in the movement to abolish slavery. After he left Galesburg, he went on to become president of Wheaton College, and there, as at Knox, he seems to have played a crucial role in putting the school on a sound financial footing. And yet...
If Blanchard was a dynamic and progressive force in the early history of Midwestern colleges, he was during his life and for long afterward a highly controversial figure. One of his strongest critics was Carl Sandburg. In ³Always the Young Strangers² Sandburg describes Blanchard in several emotion-charged pages as one who was notable for the many things he hated and who instigated ³a storm of jealousies and rivalries that ran for years and came near being the ruin of Knox College.²
Calkins, in his history of Galesburg, ³They Broke the Prairie,² gives a more balanced portrait of Blanchard and his years in the area, but, in a more subtle way, he too presents an unflattering view, telling stories which cast Blanchard in a rather negative light, including the famous one involving a confrontation between Blanchard and a railroad engineer. (More about that later.)
The dust jacket of ³Minority of One² contains the phrase (maybe a slight exaggeration) ³the man who established two American colleges.² It also has an early portrait of Blanchard framed by what appears to be a clenched fist with a cross on the wrist, an interesting and probably appropriate emblem. The motto at the beginning of the book is a quote from Blanchard, ³The minorities have done the good in this world: the majorities only register it.²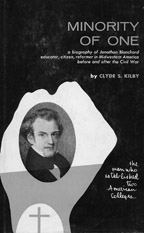 Author Kilby, at the time of his book, was a writer for evangelical religious publications and Chairman of the English Department at Wheaton College, a school with a strong evangelical Christian tradition and one where the Blanchard name, because of both Jonathan and his son Charles, also president of the college for many years, was highly revered. (One of the main buildings of that college is Blanchard Hall.)
After reading Calkins' and Sandburg's accounts of Blanchard, I was intrigued by the prospect of another view which I suspected would be different and more favorable. I found that to be true of ³Minority of One² but also was pleasantly surprised to find that if, as one would suspect, it was overwhelmingly favorable to its subject, it also seemed a good professional job of biography-writing. The author, though obviously sympathetic to the evangelical Christian point of view (He later became a recognized authority on C.S. Lewis), seems to stick to the facts of Blanchard's quite interesting life. And, as one would also expect from a professor of English, it is well written.
Jonathan Blanchard was born, the eleventh of 15 children, on a farm near Rockingham, Vermont in 1811. He grew up helping with work on the farm and seems to have always operated a working farm wherever he went though the rest of his life. (During his years in Galesburg he owned 500 acres of farmland.) Young Jonathan started attending school at the age of four and was called ³Bible Blanchard² because he sometimes brought the family Bible with him to class.
There is also a story, repeated by several writers, of Jonathan destroying a jug of cider brandy intended for his father's workmen. It seems to be taken as evidence of his moral earnestness (or puritanical nature) and no one mentions his father's reaction to the incident. Jonathan was only 15 when he left home and became a schoolteacher in western Vermont. Soon afterward he decided to continue his education at the Chester Academy. In spite of his affinity for the family Bible, Kilby says Jonathan was ³not a professing Christian² at this time.
Blanchard seems to have enjoyed dancing and card-playing as a young man, and while studying Greek and Latin authors he translated classic erotic love poetry. But while at the Academy he apparently had a religious experience in which, according to Kilby, he ³was Œborn again,' or, in the idiom of the time, he began to Œhope in Christ.'² Blanchard was now set on a course as a serious and committed fundamentalist Christian.
Later in his career Blanchard was the minister at a church in Cincinnati, where he took part in a week-long, widely-reported debate with another minister named Rice on the question of whether slavery was sinful. The result was a book called ³Debate on Slavery,² which has become something of a classic in the history of the abolitionist movement. Later, when Blanchard had come to Galesburg, he took part in a similar debate with the famous Senator Stephen Douglas. This was a few years before the more famous debates between Douglas and Lincoln.
During these early years Blanchard was becoming widely known as a preacher against both slavery and ³secret societies,² such as the Masons. In several instances, before he came to Galesburg, he narrowly missed being the object of violence from angry mobs opposed to his anti-slavery views. In these early years, also, he became friends with many in the abolitionist movement, including the famous Beecher family. Harriet Beecher Stowe, whose novel ³Uncle Tom's Cabin² was of great importance in turning the public against slavery, became a friend of Blanchard's wife Mary, an attractive woman with intelligence and abilities apparently equal to her husband's. (Kilby laments that all of Blanchard's love letters from his courting days were apparently destroyed.)
One of Blanchard's strangest friendships, perhaps, was that with Thaddeus Stevens, a loose-living, foul-mouthed Congressman quite different in personal habits but sharing Blanchard's hatred of slavery.
After a number of years in Galesburg, during which he obtained much financial help for the college from his wealthy abolitionist friends, Blanchard left the presidency of Knox College 5; was almost run out of town, in effect 5; as a result of what has been called a ŒŒ schism'' that split apart both the college and the town. Blanchard and college founder George Washington Gale had not gotten along well for many years. Some of the trustees developed a plan asking both Gale and Blanchard to resign in the interest of harmony on the campus. Other factors were involved, especially a conflict for control of the college between Presbyterians and Congregationalists.
There were impassioned meetings, many published attacks in newspapers and pamphlets, a boycott of commencement by most of the graduating class (just nine students) and a general, rather unchristian level of vituperation that persisted for a time, until Blanchard agreed to serve for one more year and then leave.
As you might expect, Kilby gives an account of this incident very much favoring Blanchard, including much about the support he received from the student body, who seem to have idolized him for many reasons, including Blanchard's strong abolitionist fervor. Kilby's account of the ³schism² is interesting to read alongside Calkins'. Neither may have the final truth on what may seem 5; from a modern perspective 5; a strange event.
Undoubtedly the most well-known story about Blanchard is one involving his confrontation with a railway engineer. As Earnest Calkins tells it, an unnamed engineer was preparing to leave the station for a scheduled Sunday run on the newly established railroad. Blanchard appeared and told the man to stop. The engineer ask who he was and Blanchard replied, ³I am President Blanchard of Knox College, and again I order you to take that engine to the roundhouse and not run this train on Sunday.² To which the engineer replied, ³Well, President Blanchard of Knox College, you can go to hell and mind your own business, and I'll take my train out as ordered.² Sandburg also tells this story in ŒŒAlways the Young Strangers.²
Kilby, in ³Minority of One,² goes to considerable length to question the story's truth. He notes that Blanchard himself ³made a categorical denial of the anecdote,² which he said was ³invented² by a railroad conductor. Kilby further argues that Blanchard was too sophisticated to do something of this sort. True, he opposed most activity other than worship on the Sabbath, but Kilby argues he was too intelligently aware of changes taking place in society to attempt such a quixotic gesture.
Kilby tells another story about Blanchard that may give a more accurate view of a complex man 5; and this one is probably more authentic. After he left Galesburg and was established as the president of Wheaton College, Blanchard again was involved in controversy, and again it aroused strong feelings in townspeople as well as the college. This incident involved a young professor who was being dismissed from the college and, some felt, not treated fairly.
Blanchard was travelling on a train when a Wheaton resident, on the opposite side of the controversy, confronted him. The man began berating Blanchard ³in his face,² as we would say in the modern phrase. Blanchard did what some others might do but what a Christian minister presumably shouldn't do 5; punched the man in the jaw. As if prepared for this outcome, the man went immediately to a lawyer who was also on the train and arranged for an assault charge to be brought against the pugilistic minister.
Blanchard made his appearance in court, pled guilty and paid a three-dollar fine. A lawyer told him he might contest the charge on grounds he was provoked, but Blanchard said no, he had indeed struck the man, though, positioned as he was up against the wall of the train, he hadn't got a good swing. After his court appearance the conscientious college president called a convocation and explained his actions to the student body, taking the blame for losing his temper.
After finishing ³Minority of One,² and especially after comparing it with the different views of Blanchard given by Calkins and Sandburg, the reader is left with questions about a fascinating and contradictory man. Blanchard was a man who hated many things, as Sandburg said. He hated drinking and dancing, yet, as Kilby notes, he was a man who enjoyed playing the flute to entertain his grandchildren. He was moralistic and possibly overbearing, yet in letters to his daughter Mary quoted by Kilby he seems a considerate father. (The daughter seems to have been a match for him in her headstrong nature.)
Blanchard always seems to have believed he was a crusader against an evil world, a minority against the prevailing corrupt majority. In the later years of his life Blanchard was much involved in a campaign against ŒŒsecret societies,'' especially the Masons, for which Calkins, in a subtle way, holds him up to ridicule and which seems incomprehensible today. Yet one of the other objects of his hatred 5; the one which most characterized his early life 5; was slavery. From the perspective of history, he seems to have been absolutely right in that case.
Calkins's account of Blanchard's years in Galesburg paints a wry and subtly negative picture. Sandburg's portrait is even more damning. (Might it really be Sandburg's negative reaction to fundamentalist religion in general?) Kilby's biography gives another, more positive view of a rather complicated man. Perhaps, together, all three accounts give a rounded view of one of the most dynamic 5; and controversial 5; men in early Galesburg history.
<![if !supportEmptyParas]> <![endif]>
³Minority of One² is now out of print but copies are available at the Galesburg Public Library and the Knox College Library, and are available for sale from booksellers on the Internet.
<![if !supportEmptyParas]> <![endif]>