Energized Silver Streaks
Four sophomores lead Reynolds resurgence
By John Ring
The Book tells us a lot of things.
The Book says to win football games you have to run the football.
The Book says you need five-tool players in baseball.
The Book defines a quality start, a quick release and a Cover Two defense.
For the last several years, high school basketball coaches have told me way too many times that to win in the Western Big 6, you need juniors and seniors. And while that rule in The Book may make sense most of the time, it isn't etched in stone.
Rare talents like Joey Range played in the Big 6 as a freshman. Other players were ready at a younger age, like Ted Trueblood, Sean Hanlon and Joel Dieterich.
Silver Streaks Coach Mike Reynolds has thrown The Book into the trash.
Four sophomores--- Dalton Davis, Pierce Ferguson, Brandon Thompson and Chad Thompson—have contributed at the varsity level. Junior Victor Davis and those four sophomores are the building blocks that Reynolds is counting on to turn the Streaks program around.
In turn, the sophomores have bought into Reynolds' program.
Asked what exactly is the Mike Reynolds program, all four responded with one word. "Defense."
"Defense," added Ferguson, "plus execution."
Four months ago, no one knew who these guys were. Today, Silver Streak fans applaud their every move. They know the importance of these sophomores.
Consider this past weekend.
Dalton Davis scored 24 points against Rock Island. His three-point shooting kept Galesburg in the game. Brandon Thompson hit a three-point jump shot at the buzzer to close the third quarter and gave the Streaks a short-lived lead. Ferguson and Thompson both hounded Rocky's leading scorer all over the court and it was Ferguson that hit consecutive breakaway layups in the third period. Chad Thompson was inserted into the game late because of his three-point shooting skills and the 6'5" post/guard crashed the boards on every possession.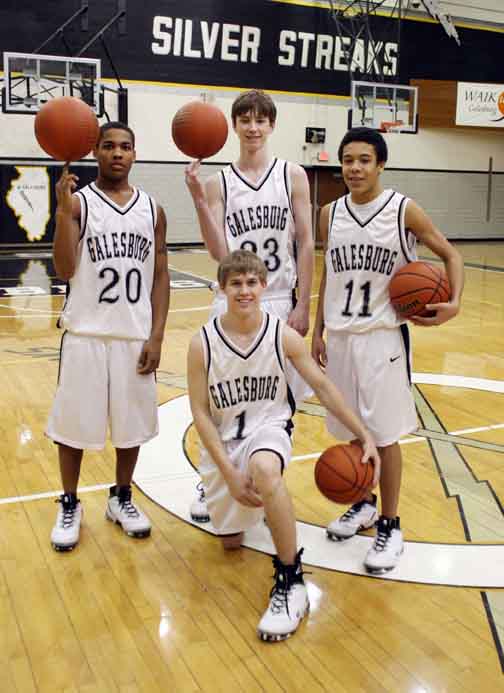 The Pure Shooter
When the four sophomores were together after a practice, the question was asked, "Who's the purest shooter of the four of you?" They all pointed to Chad Thompson.
Chad Thompson has it all. A quick release and a good, smooth rotation of a lefthanded shooter. He also has the confidence that comes with it. "My shot has always been there for me," said Chad. "Always." What happens if he misses his first shot? "I stay confident. I know it's going to come back." Thompson has been also fortunate to have local basketball legend Harley Knosher as his grandfather. "My Grandpa, he gets all the credit for my shooting. I've always shot the ball with a lot of arch on it."
Thompson doesn't talk like a sophomore. He's still raw but has the talent to put together a solid basketball career in high school. He's more of a perimeter player than a post player but he sees that changing. "Down the road, I think I'll play more post. I've got a jump hook. I've worked on some inside moves."
Of his teammates, Thompson says, "Dalton is the guy who has a tremendous amount of confidence. He runs the offense and we listen to him on the court. Pierce Ferguson? Tremendously quick and he's probably the goofiest player on the team."
The Stopper
Pierce Ferguson is having the time of his life. Before this season, this lightning-quick guard was academically ineligible and his talent was wasting away. Not anymore. "Being able to play basketball has pushed me to get better in the classroom," said Ferguson. "I can't let up. I want to keep playing and being a part of this team. The seniors, guys like Tanner Libby and Brian Gernant, they have helped all of us so much."
Ferguson is still learning the system, still adjusting but his athleticism, especially on the defense end, has made him valuable to the Silver Streaks. But Pierce looks at it as a challenge, just like the season has been so far. "The game at Quincy was a tough one," said Ferguson, "and so was losing our assistant coach. But Dalton Davis, he's the leader of this team. Everything that Pierce Ferguson does on the basketball court is because of Dalton Davis. He's a leader in the classroom and the court."
Double D
Last summer, Dalton Davis played with the Streaks in tournaments and games. He wasn't sure what the future held for him on the court. "I figured I had nothing to lose," said Davis. "I just played the best that I could and everything came together."
Davis has been the most pleasant surprise of the season. He not only solidified the point guard position but his offense has been pretty consistent, except for last Saturday's loss at Geneseo. Before that, Dalton averaged 20 points a game over a five-game period. "To win, we need to stay focused. We can win the Regionals this year. I know this team can do that."
"One of the reasons I think I play good in games is because Pierce pushes me at practices. He's so quick and athletic, I can't face anyone tougher in a game. Brandon pushes me as well. Chad has an outstanding shot. We have a good group."
BT
Brandon Thompson is another player that jump-started his career by playing summer basketball. "Summer ball was big for us," said Brandon. "We got better last summer and we're going to continue to get better this year. When we won at Rock Island earlier in the year, it was one of those total team efforts. That's what need to keep doing as a team to get better. That showed what we can do and what we can become."
BT, as he's known, loves the fans at John Thiel Gym. "We notice that the crowds are real good. We just hope they keep coming out to support us because it means a lot."
Like Ferguson, he adds quickness to the Streak practices. More than that, Thompson has showed a recent aggressiveness to the basket, which helped win the game against Rockford East.
Good as the sophomores have been, there's still no set blueprint on if they will continue to improve or stagnate. We've all seen that before. But one of the differences is they come from a strong class and they genuinely like each other, which in the end means pushing each other to improve.
"Everyone thinks we can win the conference next year and that's a great goal," said Chad Thompson, "but I'd like to go to State. Why not make that your goal?"
Mike Reynolds has clearly made a difference in his first year as the Streaks coach. He has these kids believing and buying into his program.
And sometimes, that's the most important first thing to do.
2/12/09