Clyde Best in miracle cure
by Norm Winick

---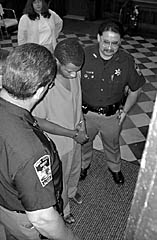 In a case that gets curiouser and curiouser every day, Clyde Best's attorneys have asked to withdraw as his counsel, with one of them saying that describing the case as '''bizarre' would be an understatement.''

Donald Jackson verbally requested that he and James Shadid be excused from representing the accused murderer at a hearing Tuesday morning. Jackson added that ''in my 25 years of practice, this is the first time that I've been confronted with a situation of this nature.'' A hearing on that request will be held Thursday morning. At that time, State's Attorney Paul Mangieri plans to oppose the motion to withdraw arguing that it will just serve to delay the trial even more.

This latest flurry of motions comes on the heels of Best's request to serve as his own attorney-- a request at first granted by Judge James Stewart then vacated by Judge Greg McClintock when Best showed up in court unable or unwilling to communicate at his first hearing acting as his own attorney.

Tuesday, Best was silent but walked in under his own power and even attended a private conference with the attorneys in the judge's chambers. A jailer described Best's ''recovery'' as a ''miracle cure.''

Despite the pending motion, McClintock has issued orders to everyone involved to prepare for a jury trial commencing June 7th.

That scenario seems unlikely. If Jackson and Shadid are not allowed to withdraw, they have already said they will request another hearing on Best's fitness to stand trial; each of the two previous procedures to determine his fitness took several months. If they are allowed to withdraw, and Best is allowed to defend himself, he has already filed a pro se motion for a continuance. If they are allowed to withdraw and the court appoints another attorney, that new lawyer will undoubtedly be granted some time to prepare for the case. Public Defender James Harrell attended Tuesday's hearing just in case.

For his part, Mangieri says he's ready to present the state's case starting June 7th. ''These last minute wrinkles do make it more trying,'' he admitted. He issued 11 subpeonas Monday to witnesses expected to be called. Witnesses in the case include some current and former Knox College students who are scattered across the globe. Mangieri says the subpeonas do not require them to appear at any specific date but do require the potential witnesses to keep the State's Attorney apprised of their location and how to reach them.

Best's defense, whomever ends up representing it, still has a multitude of options available even though they will be required at some point to explain what their defense will be before presenting it. They can still ask for a change of venue though Mangieri doesn't think that's likely. They could argue insanity-- which is what is expected-- but that has complications, too. The state's new insanity defense choices were possibly tossed out by the Illinois Supreme Court with their overthrow of the connected ''truth in sentencing'' legislation.

Mangieri has already told the court that he intends to ask for an extended-term sentence, potentially life. He has determined that ''it is not a case that falls within the statutory qualifying factors for the death penalty.''

As he formulates his case, Mangieri has to prepare for all contingencies as he plans on trying the case himself. He admits he's never prosecuted a case where the defendant has acted as his own attorney but doesn't necessarily expect that to happen this time. He says it's ''not a rarity for a judge to deny an attorney's motion to withdraw.'' Mangieri acknowledges that McClintock has some tough decisions to make on several issues: ''the defendant's fitness to understand the charges against him and stand trial is a different matter than his ability to voluntarily present an adequate defense.'' Both of these will need to be decided before a trial can commence-- and they have been.

At the hearing on May 27th, neither attorney did what they said they would. State's Attorney Paul Mangieri argued in favor of Shadid and Jackson's motion to withdraw from the case and then Judge McClintock denied it, saying that Best was unable to defend himself and appointing another attorney would only serve to delay the case. This was after Best himself declared that he did not want their representation but after he said he wanted another attorney. He explained his bizarre non-cooperation at a prior hearing by saying that he was overwhelmed with the responsibility of defending himself and realized he couldn't do it.

Jackson did not ask for another hearing on Best's fitness. Instead, he said he'll be ready on June 7th to present the defense-- as difficult as that may be with an uncooperative client.

The judge vacated Best's motion for a continuance which had been filed pro se. At this point, a jury trial is set to begin June 7th.

---
Uploaded to The Zephyr website May 29, 1999

---
Back to The Zephyr home page at: www.thezephyr.com

---