Don Moffitt goes to the convention

by Norm Winick


This was Don Moffitt's first national political convention and he was impressed. The State Representative from rural Gilson was pleased with the organization, the atmosphere and the speakers from top to bottom. ''I think the organizers have done a fantastic job. Every session, there have been some excellent speakers -- every night some fantastic speakers.''

Talking in the hall outside the final session, Moffitt, an early George W. Bush supporter, defended some of the charges made by Dick Cheney and others. ''I like for things to be positive but when you're attacked, you have to defend yourself. Overall, Cheney adds balance and depth to the total ticket. He's a real heavyweight.''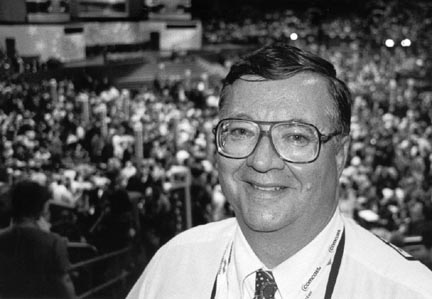 Moffitt is a true believer in the reincarnation of the Republican Party under the big tent. ''Many of the things that George W. Bush is emphasizing are things that have always been there but not our party's primary interest. We're really returning to our roots by being, once again, the party of Lincoln. Governor Bush, rightfully so, is broadening our base. He's reaching out to hispanics; they're part of his life. He's bringing people together. That's what he's been doing in Texas; he's now just taking it from the state to the national level.''
Moffitt was also moved by events not connected to the election. ''One of the most moving moments was when Windy, the girl with Downs syndrome, addressed the convention. It was incredibly touching. I was also moved by seeing the former presidents, Bush and Ford, and Nancy Reagan, all together.''
One aspect of the Philadelphia experience did shock the State Representative. ''My hotel here is $222 a night; in Springfield, I stay at a Red Roof Inn for $29 a night.
He did see some of the protestors but he says they had no real effect on the convention. ''I have seen some but not interacted with them. We were downtown at the PoliticalFest and walked by some. We weren't seeking them or avoiding them. They have a right to express their opinions but when they inconvenience the public, appropriate action has to be taken. I think the Philadelphia police acted appropriately.''
There were no real votes taken at this convention yet Moffitt was in the hall for all the proceedings. ''I've stayed until adjournment every night. I was elected to be here and I take it as a serious obligation.'' He doesn't see this controversy-free convention with low ratings as a negative. ''I certainly watched previous conventions of both parties and saw the action and the dissention. This campaign has already started and those decisions had been made; this convention just helps jump-start it.''
Overall, Don Moffitt says the convention ''Šexceeded my expectations. It's been exciting to see the party expanding the Republican tent and getting back to the roots of the Republican party. I've been an advocate for education since I was first elected and it's great to see the national party put its priorities there, too.''
''We must continue what George W. Bush started here. We need to make it clear at the grass roots level that the Republican Party is a party for all the people. People from various segments of society, all minority groups, all income levels, are all welcome. We need to continue to say why people should vote Republican. That's a powerful message, but if we're a big tent we must believe in it.''
''I realize that it also means that the people who have been in power in this party must relinquish some of it but they give up all their power if they don't elect their people to office.''
That's what this all is about.

---
Uploaded to The Zephyr Online August 9, 2000

---
Back to The Zephyr

---