Somebody Here's A Crook

by Les Winick

---

President Richard Nixon made the news again when it was discovered that U.S. postage stamps with his likeness, issued April 26, 1995, were printed upside down. Clarence Robert Robie claimed that he bought 160 copies of the 32 cent inverted Nixon stamp at a post office. He then sold portions of his "find" to two different stamp dealers. Unfortunately for the stamp dealers and, especially for Robie, it was discovered that the stamps were stolen.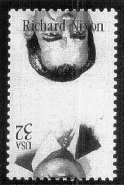 Robie was arrested December 12, 1996 for stealing the stamps from the Banknote Corporation of America, Suffren, N.Y., where he worked as a postage stamp cutting machinery operator. The firm's contract with the U.S. Postal Service states that all irregular stamps were to be destroyed. These are known as "printer's waste" since they are not fit for delivery to the customer. It is not known how Robie got the stamps out of the plant.
Robie sold 120 of the stamps to a New Jersey stamp dealer for $60,000 in June 1996 and the balance of 40 to a Brooklyn dealer for $7,000 in cash and $13,000 in valid U. S. postage stamps. One of the inverted stamps was consigned to the famous New York auction firm, Christie's. The auctioneer placed the inverted error on the front cover of their February 1, 1996 auction. The stamp drew huge coverage from the media since it was considered a major "find" of a U. S. error.
A U.S. Postal Inspector learned of the auction, informed his superiors of the error stamp, and an investigation started immediately. Two days before the sale, Christie's acted as a broker and sold 141 of the remaining stamps to a California stamp dealer for $800,000. The single stamp sold for $16,675 at the sale.
The dealer who bought the 140 stamps immediately started offering them to various stamp dealers throughout the United States. These sold at wholesale prices ranging from $8,500 to $10,000. It is not known how many stamps remain unsold and who bought the individual stamps.
If convicted of the theft of government property, Robie faces a maximum penalty of $10,000 for each offense (each stamp is considered one offense) and a fine of $250,000 plus ten years imprisonment.
The interesting part is that the government states that these inverted stamps are stolen property and must be returned by whoever bought them. Mary Jo White, The United States attorney for the Southern District of New York, stated that "all buyers and sellers should understand that they are dealing in stolen goods." The government has the legal right to confiscate the stolen property. Considering the many change of hands that some of the stamps went through, it will be interesting to see how many of the stamps will be recovered and who will pay for what.

---
This article posted to Zephyr online January 10, 1997