by Jon Gallagher

''Number one, Knox County rocks!'' proclaimed the behemoth in the ring to the cheers of about 400 fans gathered at the Knox County Fairgrounds for Saturday night's Windy City Pro Wrestling show. ''Number two, I'm gonna put you down, punk!'' he growled at his opponent across the ring.

And with that, ''King Kong'' Chris Bundy, a 450-pound mass of humanity, began defending his superheavyweight title against the Polish Crippler, a massive man in his own right.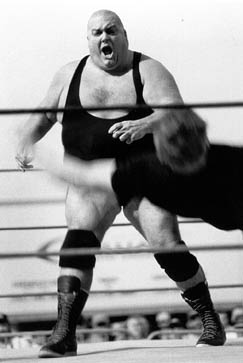 Windy City Professional Wrestling is a small, independent wrestling promotion that has been based out of Chicago for the past dozen or so years. While the big two federations, Vince McMahon's World Wrestling Federation and Ted Turner's World Championship Wrestling, are filling major arenas around the country, Windy City plays to the smaller venues like high school gyms and local fairgrounds.
Sam Decero, a former professional wrestler, is the head of the group which manages to keep itself busy on most weekends. Decero also runs the training school where most of the wrestlers learn the ins and outs of pro wrestling. Most of his shows feature new talent from the school as well as veteran wrestlers who are no longer marketable in the bigger markets.
King Kong Bundy is a prime example. Once a headliner in the WWF where he wrestled in the main event against Hulk Hogan at Wrestlemania II, Bundy now earns his money before small crowds on the independent circuit. In his match Saturday night, he took little time in defeating his opponent, ending the match with his trademark ''splash.''
Greg ''the Hammer'' Valentine was another veteran wrestler on the show, taking on the Windy City champion, The Ghetto Superstar Willie ''DaBomb'' Richardson. Valentine has been wrestling for the better part of 30 years, holding many titles including the Intercontinental Championship in the WWF. His match Saturday night went to a ''No Contest'' as two other wrestlers ran into the ring, breaking up the match, and attacking Richardson. At 48, Valentine's prime is well behind him and even this short match left the wrestling legend breathing pretty hard.
The rest of the card featured wrestlers that few, if any, locals had ever heard of. The finalé featured a 40-man battle royal, and the parade of talent to the ring looked much like a grade-school Halloween parade with a variety of sizes, costumes, and demeanors. Each wrestler has gone through a rigorous training regiment under the careful guidance of former pro wrestlers. ''We don't even let someone get in the ring until he can bench (press) his own weight,'' explained Terry Hopper, Events Coordinator for WCPW.
Most of those who come to WCPW to be trained dream of making it to the big time wrestling of the WWF or WCW. Training costs anywhere between $2,000-2,500 and gives the hopeful wrestler unlimited time at the training facility. It is there that they are taught how to fall, how to throw and take a punch, how to work a crowd, and how to stay in character both during the show and after. Some prospects come to the training school with an idea of what kind of image they want to portray while others have no clue. ''We help them develop ideas,'' said Hopper.
Wrestlers then start at the bottom of the card and work their way up depending on their in-ring abilities as well as their ability to ''get over'' with a crowd. ''Some of us got it, and some don't,'' said one of the wrestlers after the show. He refused to give his name but had worked in the battle royal and was now helping to tear apart the ring. ''SomedayŠ'' he said, dreaming of the possibilities.
Wrestlers at this level are comparable with minor league baseball players. They work their butts off to learn their craft and advance in their careers. They are also anxious to please the fans in attendance and seem genuinely concerned about what fans thought. Oftentimes WWF or WCW wrestlers just go through the motions of a wrestling match. Doing that at this level can be a career killer. ''You gotta give 100 percent all the time,'' said one wrestler. ''If you don't you're gonna hear about it from Sam [Decero] or the fans, and either way, that's not good.''
Some of the WCPW wrestlers were very candid about their careers in pro wrestling, while others had repeated their own hype so many times, they've begun believing it themselves. Jeffro King and Mitch Blake comprise a tag team known as ''Fury.'' They come to the ring in baseball uniforms, lugging bats, and wearing face paint. After the show, the two explained how they got into the business.
According to the story they've concocted, they were best buds growing up before going off to play minor league baseball together in the Phillies organization. Their hot tempers got them banished from baseball and so they tried wrestling instead. They couldn't remember if it was during a minor league game or if it was just during open tryouts that the alleged fight between Mitch and another player took place, but that's probably due to one too many shots to the head with steel chairs.
Mike Masters came to pro wrestling in a more conventional way. He started as a bouncer in his native Pittsburgh and was asked to try out by other wrestlers. A full-time, custodial parent, he wrestles as much as he can, fitting shows around his daughter. His hope is to move up to the major federations soon.
''Big Time'' is a little different. He doesn't look like your typical wrestler at 5'10 and 180 pounds, but he still holds the ''Battle Royal Championship'' in the promotion. He attended Columbia College and earned a degree in filmmaking. One night, while attending a WCW event in Chicago, he dressed up like Hulk Hogan. He was given a flyer advertising the WCPW training school and he checked it out. The rest, as they say, is history and he began his wrestling career, using his filmmaking background as the basis of his ring persona.
Big Time is realistic about his chances of ever making it to either of the big groups. ''Right now, the money is there for the guys who know how to talk,'' he said excitedly. ''I know how to do that. That's my strong point. I may never be a wrestler there but I can manage.''
Anyone who watches either of the professional wrestling shows on Monday nights knows that the emphasis has shifted from actual wrestling to the soap opera-like plot lines that are carefully weaved around the matches in the ring. Because of this shift, Big Time is right. Those who can act and who can give a decent interview will be the ones who make it in the 21st century.
If for some reason Big Time doesn't make it in the big time, the 24-year-old can always fall back on his film career, or even the Baskin Robbins store which he says he co-owns. Right now, he keeps himself busy five nights a week, perfecting his craft at the WCPW school, or working shows.
Meanwhile, Windy City Professional Wrestling will continue to push on in their quest. Plans are being made right now for wrestlers from the group to visit inner city schools in Chicago to give students positive black role models to look up to. Hopper explained, ''We want kids in those schools to know what is possible if you work hard. This is an area we can cover better [than the WWF or WCW].''
The show Saturday night may have lacked the pizzazz and pyros of their larger and more popular cousins. It may have had a few wrestlers who were lost in the ring and didn't know quite what to do next. It may have had a lot of missed punches and kicks, but it did have nearly 40 wrestlers who were all busting their butts to entertain the fans who paid $8-12 to show up.
And that's something the WWF and WCW can't say about themselves.
---
Uploaded to The Zephyr Online August 8, 2000

---
Back to The Zephyr

---