Meet the new boss: not the same as the old boss
---

by Norm Winick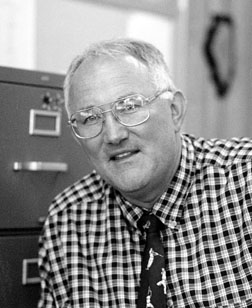 Bill Scheffler is a big guy taking on a big job. The new principal at Galesburg High School is a former basketball player who towers over his students and staff. He's coming into the job with 30-years experience in Illinois and Minnesota and a job here is to turn some things around. The Curriculum Study released Monday pointed out a wide range of areas where Galesburg High School needs improvement and Scheffler is ready to address them.
He promises a drastic change from the laissez-faire administration he succeeds. ''The biggest thing that I intend to do right now is learn about the district, the school , the staff, the curriculum and the students. I'm working as hard as I can to familiarize myself with the school and the district. I have an open door policy. Staff, students and parents are always welcome to come in and talk to me. One of my biggest jobs is to listen. Even if we disagree, I want everyone to think they had a fair hearing and they can speak their mind. When school starts, I'll be attending classes and getting to know my teachers and students. I know it won't be possible the first year, but I want to eventually learn every student by name.''
One of Scheffler's main concerns at the outset is the drop-out rate-- the percentage of students who do not graduate. ''I think we are failing the 'kids in the middle.' We do well by the college bound students and the special-ed kids but we have very limited opportunities for those not headed to a four-year college. In Springfield, I started a hospitality-tourism academy, working with that industry to provide jobs and a purpose for kids in school in an area crying for workers. We trained kids for the hotel/motel/restaurant industry. Some went on to college and pursued a management path; others didn't. But the program was relevant to both groups. It's our job to make education relevant to our students. I believe in fostering school-business relationships. I will work with the business community to generate mentors and create job opportunities that benefit both of us.''
Scheffler says part of getting kids involved is promoting and nurturing co-curricular activities. ''I'm a big believer in getting kids involved in activities outside of class. I've noticed that kids who are in athletics or clubs or music or the arts generally score about one point higher than kids who are not. I'll attend as many ball games, plays, club meetings as I can. I think it's important to show the kids that their principal supports them. When you sign up for high school principal, it's part of the job.''
''I always meet with the student council-- even during the summer. I also form a student advisory group of just average students. I let counselors and the staff pick those kids and I find that group very useful.''
In Springfield, Scheffler was the center of a controversy when he replaced the lead in a school play. The director cast a female in a male role and Scheffler gave the job to a boy. ''It was a dispute between our music teacher and an outside director who had been working on the play and the casting. I supported our music teacher. I took the heat for that; it comes with the territory. But I think it got a little overblown. They have since changed the relationship between outsiders working with students and faculty so that kind of situation won't happen again.''
Scheffler is supportive of the new, higher academic standards for athletes. ''It's hard to argue against student-athletes and expecting them to be on track for graduation and to maintain an acceptable grade point average. We need to provide an opportunity for kids to get help if we raise expectations and I plan to do that.''
He agrees that attendance is a major concern at GHS. ''If we provide meaningful programs where kids belong and kids connect, they'll be there. You have to show some relevance, show kids that it's important to be in school. I've used job shadowing programs to show kids how important school is.''
For the kids who attend but are not challenged, Scheffler wants to increase the advanced placement options.'' I want advanced kids to have more opportunities. My idea of school is to push kids to their utmost potential. We're a big enough school; we should be able to offer those kinds of programs.''
Galesburg offers a unique experience for Scheffler. ''I've never been in a district that had only one high school. I've never been the focus like I am here and I'm looking forward to it. I know it's life in a fishbowl and you're in the limelight but I see some advantages, especially in the way the community cares about the school. I'd like to see more attention paid to the number of national merit semifinalists or increases in IGAP scores or ACT scores. I'd like to see more interest in what goes on in school and I see fostering that as part of my job.''
The new block schedule imminent at GHS is a positive, according to Scheffler. ''I'm familiar with a block schedule and I do think it provides teachers and students with an opportunity top learn in-depth. It also decreases the number of students a teacher sees in a day and I think that's actually more important than class size. It also spreads out some of the responsibility among disciplines. It's every teacher's job to teach writing --not just the English teachers.''
Having an armed police officer in the school is not new to Bill Scheffler. ''I've had a police officer in school the last two times and I have no problem with it. I believe it's important for kids to know that police are people, too. Just like they need to know that principals are people, too.''
While several smaller districts in the area have instituted random drug tests, Scheffler doesn't see any need for it here. ''I'll never say 'never' and I'll never say 'always'.'' Will I randomly test a student or search a locker, no. Will I search a locker if I get a tip that a kid is selling drugs in school or brought a gun, absolutely. It's my responsibility to provide a healthy, safe environment for children. Part of that is keeping the kids selling drugs or carrying weapons out of school.''
As Bill Scheffler enters his first year as Galesburg High School principal, there will be many changes forthcoming. The entire schedule will be revamped, courses will be added, staff will change and he has a unique opportunity to place his stamp on all of that plus introduce students to his style of supervision which involves a lot more participation and input from everyone involved than they're used to contributing.

---
Uploaded to The Zephyr Online July 16, 1999

---
Back to The Zephyr

---