Galesburg: capital of the Burlington Railroad
New video produced locally
by Norm Winick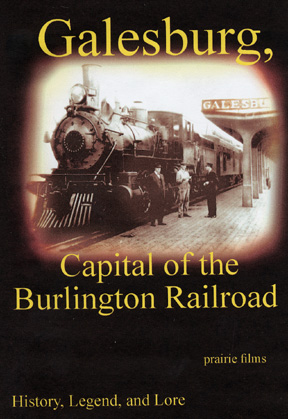 With a title sure to enrage co-workers from Aurora and Burlington, two Galesburg railroaders have produced a video dramatizing the intertwined history of Galesburg and the Burlington Railroad.
A documentary in the Ken Burns style, the hour-long professional-quality production starts with some fascinating rare film footage of Main Street in the teens. From there, the story of bringing the railroad to town in 1854, to the deadly gravity hump yards and the brutal strike of 1888 all are depicted and explained.
Harry Bulkeley narrates much of the film and helped edit the production.
For William Franckey and Gary Granberg, just about every waking hour not spent railroading for the last eight months has been spent perfecting this DVD. They did it all on several Macintosh computers with a myriad of software.
Franckey, who has written previously about the railroad in Galesburg in his book Cathedral of Steel, had compiled mountains of information. "I indexed it all and kept it in a database. He spent untold hours at the Galesburg Public library. "I had to fight the genealogy ladies for the good microfilm printer." He also did a lot of research at the Newberry Library in Chicago.
"I started with a monster script. Then I got Harry Bulkeley involved to edit it. He did a lot of cutting and really streamlined it."
Granberg handled the technical side and both admit they learned a lot. "The sound is really critical ñ more than you'd think," says Franckey. Granberg added that finding the right audio to use was incredibly difficult. "Do you have any idea how hard it is to find the sound of earth moving equipment without the back-up beep tone? We had to find recordings of early trains, of streetcars, and of a telegraph operator."
Franckey says one of the goals was to separate the fact from the fiction in Galesburg railroad lore. "People don't know that Abraham Lincoln spent time at Galesburg's depot before he was here for the famous debate. They don't know that the Pinkerton's people were spying for management on every move and contact of the railroaders during the 1888 strike. They don't know how rough Galesburg was or how brutal some of the cops were."
"We hope that after watching this video they realize that the fastest people on the planet lived on East Berrien and Brooks Streets; they were the Space Shuttle pilots of their day."
Among the challenges putting the video together was the history that's missing. "We have million-dollar stories we don't have any pictures for and many photos with a thin story,' says Franckey.
"Then when you finally cut something out, it's a lot of work to maintain the flow," added Granberg, "and we worked hard to make it flow well."
The video is being sent off for duplication and will be available for sale by Railroad Days. There is a website with more information at www.prairiefilms.com.
Admitting that some stories may have made it into the film that can't be absolutely verified, Franckey explained that sometimes the myth is so oft-repeated that it becomes history. "To a child it's 'once upon a time,' to a railroader, it's 'this ain't no shit'."