Dan Walker comes back to Illinois
<![if !supportEmptyParas]> <![endif]>
by Norm Winick
<![if !supportEmptyParas]> <![endif]>
He says it isn't a "farewell tour," but an "opportunity to see old and dear friends." That is the optimistic spin put on his current book tour and his four years as governor of Illinois by 84-year-old Dan Walker. When I sat down with him in Chicago this weekend, Walker wanted to talk about the good things he did and the experiences he had, not the fighting and back-stabbing that characterized his administration in the early 1970s to many observers.
<![if !vml]>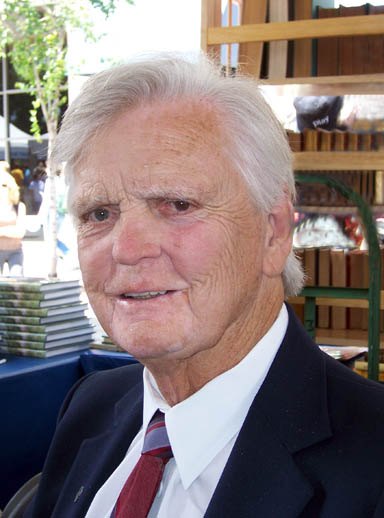 <![endif]>His legacy, he says, is not what he did as governor but what he did to get elected. "It's the walk." The walk refers to the 1,200-mile trek Walker took through downstate Illinois in 1971. "Even in San Diego, where I live now, last month I heard a loud yell, 'Hey Dan, how the hell are your feet?' It comes up in every conversation, more than anything I did as Governor."
On Monday, Walker donated his boots and some of the signs that the campaign used along the road to the Abraham Lincoln Presidential Library and Museum in Springfield.
"The walk is associated with downstate. That's one of the things I see now is that the politicians in Illinois don't pay enough attention to downstate. Illinois suffers from a severe upstate-downstate syndrome. I love downstate. I met so many great people there. When I started on that walk, I got captivated by the people and the small towns I visited. When I was Governor, I worked well with the downstate legislators and they knew they could always come in to see me. I taught them that they didn't have to kowtow to Chicago."
Besides the walk, the other event that made Dan Walker known to the people of Illinois was his authorship of The Walker Commission Report, in which he called the disturbance at the Democratic Convention in Chicago in 1968 a "police riot," earning him the lifelong enmity of "The Boss," Mayor Richard J. Daley. "I never regretted using that term because it was accurate. In fact, at the time, a commander with the Chicago Police Department took me aside soon after it came out and told me it was right on. He couldn't go public with his comments and that was too bad."
Walker's 1972 campaign for Governor started with an improbable primary victory over popular downstate legislator Paul Simon — who had the backing of the Daley machine. Simon and Walker had worked together in the past, starting the Democratic Federation of Illinois, but that 1972 campaign was rancorous, with Walker's people painting Simon as a machine hack. When I asked Walker if he ever patched things up with Simon, he claimed "there never was a real rift between Paul Simon and myself. We both respected each other. He was the first one to tell me, he Ôdidn't see me coming.' There were hard feelings between our supporters but not between us personally."
"As Governor, I tried desperately hard to change the system. It was and still is a bipartisan country club system. Democratic and Republican leaders play the game together. The people were left out."
"One of the most significant things I did was sign an executive order prohibiting state employees under the Governor's control from being required to contribute or raise money for political campaigns. I stopped that practice when I was Governor. I stopped the practice of people having to get political approval to get a state job." As soon as I was out of office, things reverted back. Jim Thompson didn't renew my executive orders and pay-to-play was in full effect again. No Governor after me has had the guts to do it. It's a disgrace."
"State employees were Governor George Ryan's biggest contributors and he's probably going to jail."
In his book, Walker discusses his time in federal prison, after he pleaded guilty to getting some improper bank loans for a business, unrelated to anything he had done in public office. He emphasizes that he despises the term "country club prison." "It's no country club." He'd much rather talk about his positive accomplishments.
"We established Governor's branch offices downstate. I called them Ôaction offices.' I was trying to make government transparent and more accessible to everyone. Then the legislature made me shut them down."
Walker's biggest regret as Governor was that he could permanently end pay-to-play government. "It's a disgrace that state employees had to raise money or contribute to keep their jobs. Even today, government is entirely too closed. In this day of modern communication, it's a shame that we're not using new technology to make government transparent."
Many have compared Rod Blagojevich to Dan Walker. Both won the Democratic primary leading to the governorship with votes from downstate after losing Cook County. Even when Walker lost the 1976 primary to Daley's pick, Michael Howlett, he carried 85 of Illinois' 102 counties. Both have a combative relationship with legislative and other elected leaders.
Walker doesn't like the comparison at all. "Rod Blagojevich never called me, the last Democratic Governor, for advice or help at all. It's a shame the way he's turned his back on downstate."
<![if !supportEmptyParas]> <![endif]>
6/14/07