Monmouth College growing dramatically
<![if !supportEmptyParas]> <![endif]>
by Norm Winick and Dick Crockett
The Zephyr, Galesburg, IL
<![if !supportEmptyParas]> <![endif]>
Late last century Monmouth College was in serious trouble. Enrollment was down to about 600; finances were a day-to-day affair. The facilities were crumbling. Since then the college has seen a remarkable revival. Over $50 million has already been spent on the physical plant. There are about 1,350 students. New dorms are popping up annually. The endowment exceeds $70 million.
Now overseeing the institution's continuing renaissance is Mauri Ditzler who took over as President two years ago this month. Ditzler arrived at Monmouth College after having served as an administrator at Wabash College in Indiana and Millikin University in Decatur. The Indiana native has a Ph.D. in analytical chemistry from Duke University."The financial history makes it an intriguing challenge to come to Monmouth," said Ditzler on Monday. "The whole culture of the institution reflects its history — its time of being a college on the rise in the 50s and 60s to one that went through a difficult time and then has remade itself. I fully realize that decisions we make can turn this institution into a tailspin. Here people realize that the consequences of wrong decisions can have a serious impact."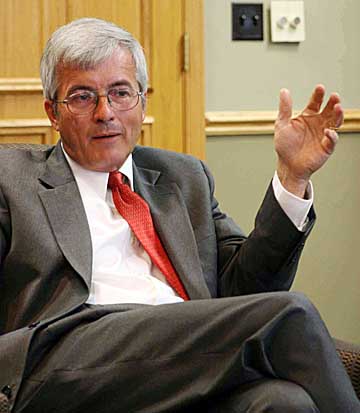 "Another thing that I like is that Monmouth is not set in their ways. Most institutions with money become conservative; most with ideas have no money. Here we have both."
Monmouth College's history is unlike that of Knox College. Monmouth College was started by local folks who recognized that the town needed a college to educate "teachers, preachers, lawyers and doctors" for the community, according to Ditzler. "It is also clear that in our times the college needs the community." Students and parents of incoming freshman need the reassurance that the student is coming to a place where they will not only receive an education, but will also be safe. Accordingly, part of the marketing of the college is by means of the physical facilities of the college. "In order to attract students you need an attractive physical plant. Everything we build takes that into consideration."
"One of our continuing challenges is to make sure we are as good as we look."
The college is engaged in an expansion that should plateau at 1,500-1,600 students, but it could go higher. "I have seen studies that show that multiples of 800 work best for liberal arts colleges. Fifteen hundred is a size we want to try out. I also know that if you get too small, you just can't offer the diversity and quality of programs that are essential today. If you look at lists of the top liberal arts colleges, most are in the 1,500 to 1,800 size."
Before growing beyond 1,600 students, Ditzler says they would pause and review the college's position and its mission. Not all colleges have experienced the steady and impressive growth that Monmouth has. Applications from potential students needed to sustain the present trend continue to pour in. In the U. S. News and World Report rankings, the college has moved from one of the top three "regional" liberal arts colleges in the country to a position further down on a long list of "national" liberal arts colleges. "National" colleges are presumably colleges whose reputation goes beyond the region.
In order to continue the progress, Ditzler lists among the college's needs an "academic complex," to be located tentatively in the location of the Broadway parking lot in the 700 block of East Broadway, but positioned closer to Archer Avenue. It may include the absorption of a segment of Archer Avenue. The complex would house the departments of physics, chemistry and biology and business. The cost of the 125,000 square-foot project would be approximately $45 million including both construction and architectural fees. Ditzler hopes that the new complex will provide an opportunity for faculty in different fields of study to be close to one another, encouraging interchange of ideas.
He sees Monmouth's location in the Midwest of vital significance. "The next 50 years, the American Midwest will be the world's pre-eminent region. We will provide the grain for food and the grain for renewable energy for much of the world. Combining science and business is what farmers do every day and it's what our success depends on. The future of civilization depends on whether the Midwest thrives in the next 50 years."
Monmouth admits students with a range of achievement scores, called ACT scores, from a test that is required for admission, with the average score being around 23. Ditzler makes the case for Monmouth's admission policy with the argument, "colleges ought to be about changing lives." This is in contrast to a policy that merely seeks valedictorians from high-school graduating classes. When looking for students, Ditzler asserts that the college seeks the "engaged student, with a depth and breadth of interests." These students show the greatest promise and they are the ones we do best with. I'm more interested in what young people know and can do when they graduate not on what they did before they got here. I want this institution to be judged as one of the best in the country based on what our graduates do. We recruit kids from small towns in the region and the inner cities of Chicago and St. Louis and try to get them to blossom."
Ditzler is fully aware of the rivalry with Knox College. "College rivalries make college fun. Monmouth and Knox is a traditional rivalry. I certainly haven't been insulted in my conversations with people at Knox. There's probably a perception in the communities that the average ACT score at Knox is higher than ours. I don't stay awake at night worrying about that. "
Sometimes people sat that out athletes have lower standards than out other students. That's not true. I will sat that if a non-athlete struggles in his first year, he will often drop out; if an athlete struggles, he will stay in school. That's why some of our athletes may have lower grades."
"Our founders wanted Monmouth College to produce graduates so that the town could survive. We have a special interest in doing that. We train a large percentage of the teachers and the doctors and lawyers and other professionals in the area. We have a special responsibility to do that for the Midwest."
<![if !supportEmptyParas]> <![endif]>
7/19/07