Hawk does tattoos

by Norm Winick

---


Rumors of his AIDS have persistently been spread throughout Galesburg as Jim Hawk continues to ply his trade as a nationally-known tattoo artist on North Seminary Street. ''I don't know where it started but people have been spreading it since before I had my two kids. It's absolutely untrue. I even confronted a local dermatologist who a customer said had told her and he told me that he just said he heard it from someone. I don't know why they're out to destroy me. It could have been started by some underage kids I wouldn't tattoo but I don't know.''

From a one-man shop, Hawk's Tattoos is now a three-chair operation that also contributes to local economic development and tourism. ''We have regular customers from Holland, Germany, Nebraska, Italy, Philadelphia, Boston and even one from Havana, Cuba.'' Hawk says they come to him because ''I am an artist and I do it right. Many of them have tattoo parlors in their home towns, too.'' Hawk set up at the national Harley-Davidson Rally in Sturgis, S.D. for ten years and built a national following. ''After a day or two, we'd be booked for the entire time. I've even had one of my creations featured in High Times magazine.''

Jim Hawk says he's always been an artist. ''When I was five, I was drawing things from memory. My parents in Monmouth pressured my first grade teacher to make me finish complete works of art. I've always had a lack of patience and been able to work quickly. That's a real advantage as a tattoo artist, too.'' Hawk started working with skin as his canvas as an apprentice with Marco and Donna in Burlington, Iowa in 1979. There he learned that ''everything has to be in perfect synchronicity to do tattoos -- from the current in the wall outlet to the person's skin. Tattooing is a medical/surgical procedure on an outpatient basis. We just use different tools; our machines are built and adjusted for this application. We follow sanitation standards like an operating room. We sterilize our needles in an autoclave.''

While the procedure may be surgical, Hawk says what makes his shop renowned is the artistry. ''I require everyone who works for me to be able to freehand; many places just use stencils. Every tattoo that comes out of my place is a work of art. I do each one like it's my best. When you use stencils, it's 'one size fits all.' That's not art. Tattoos are as broad as people's imagination and some people's imaginations are no broader that a heart with a name across it or a Looney Tune character. Others have no limit. I once tattooed three sperm with his kids names across them on a guy's legs. I drew two dogs getting it on on another guy's arm. I have an incredible variety of customers and we've done doctors, lawyers, teachers, lots of law enforcement people -- even some who look just like the gangbangers they're infiltrating.''

''When I first started, there were only a few legitimate tattoo artists in the country; now there are thousands who have learned the trade through an apprenticeship and are open to scrutiny like we all should be.''

The ''scratchers,'' or back-room and basement guys are still a problem. Hawk says they don't meet the sanitary standards or have the artistic ability. ''Hepatitis is still the most serious health threat. You can die from it in three years if they aren't careful.''

''When I first started, I did mostly cover-up work. There were no bonafide tattoo artists in the area and I was always fixing their mistakes. It took about two and a half years before I was doing people with clean canvasses.''

One of his jobs in talking to people about their tattoo is to explain some of the misconceptions. ''Tattoo needles are not needles at all, says Hawk. They are pins. There are not holes in them. They work like quill pens; ink is carried in with the pin. Different sized and varied clusters of needles make different effects. They are welded to a bar and autoclaved every time. That's the only sterilization method accepted by the AMA. The caps that contain the ink are disposable and thrown away after each client.''

Clients sit in used optometrist chairs purchased for that purpose. ''I've found they work best. The arms fold down. Dental chairs are often connected to spit sinks. The mechanical hydraulic chairs work nicer than the electric ones without the hassle of cords. ''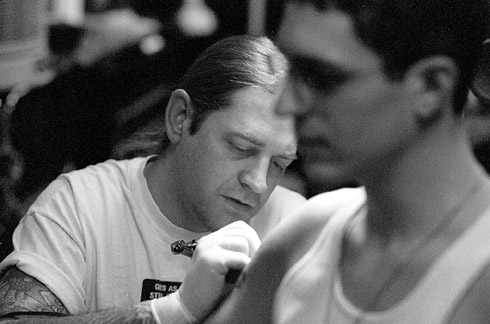 Patrick LeFebvre of Galesburg turned 21 on February 7th. He had wanted a tattoo for several years and got one soon after he was old enough. He originally wanted the entire Bible verse, John 3:16 but Hawk helped him decide on a visual representation instead.
''When people get their first tattoo, they often put it in a location that visible. Then they learn that it's a personal form of self-expression and don't worry about that. I've even tattooed the inner anus of an individual. That one's only visible to some real special friends. I spend a lot of time talking to people about what they're going to get. Often, I show them a picture and help them change their mind. I know what will look good as a tattoo and try to discourage things they'll be embarrassed about later. I do try to talk sense into people all the time. They have to think of it as a painting they can never take down. I don't like it when they come to me and ask, 'how could you put that on my neck?' I also discourage lovers' names; I tell them, 'parents and children you'll always have -- whether you want them or not -- but lovers will change.'''
''I also have my standards. I won't do racial slurs or swastikas or gang signs -- if I know that's what they are.''
Illinois law requires customers to be 21 years old before they can be tattooed -- even with parental consent. ''I stick by the law. I did do a Gulf War veteran who I learned was under 21 once but I feel he was entitled. He risked his life; he can vote.''
Joe Thurman of Fort Madison, Iowa, comes in to the shop several days a week to do piercings in the shop. His customers only need to be 18 -- or even younger with parental consent.''
Jim Hawk and his fellow tattoo artists see themselves as plying a craft older than recorded history and creating art that lasts as long as their human canvas. They know that tattoos have not always been accepted by various cultures but they have persisted nonetheless.

---
Uploaded to The Zephyr Online February 21, 2001

---
Back to The Zephyr

---