Knox College Facilities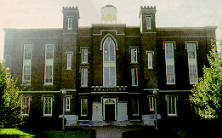 Many events at Knox College are open to the public. Most (other than athletic events) are listed in the Zephyr's "What's Happening" section. Knox College also compiles a calendar of all events on campus (including athletics).

There are several facilities used for different events. The Common Room is often used for lectures and informal talks. It is located in Old Main (above), located just south of downtown Galesburg, off South St. There is no campus parking convenient but, unless it's during a work day, there is usually plenty of space available in the courthouse lot across the street. That's also the place to park for banquets and other events in the Gizmo, the Oak Room or the Lincoln Room, which are all in Seymour Union. That facility is located behind Alumni Hall in the center of campus, and just west of Old Main.

Harbach Theatre, Kresge Recital Hall, Studio Theatre and the "Round Room" are all located in the Ford Center for the Fine Arts, located on Brooks St., just east of Prairie St. Parking is available nearby.

Indoor athletic events are held at Memorial Gymnasium or the Fleming Fieldhouse, all adjacent to each other and next to the Fine Arts Center.
---
For information on Knox College events call 309/341-7337.
---
Knox College has its own web site which includes a click sensitive campus map.
---


---