I was the "guy in the audience who looked like me" on Late Night with David Letterman
by John Ring
The top 10 questions I was asked about my 30 seconds of fame when I appeared on the Late Show with David Letterman last Monday night and then again on Wednesday night.
First, a quick background. Terry Woolsey, Mike Whitson and myself were wrapping up a three-day trip to New York City. Whitson really wanted to get tickets to the show. Woolsey and I went along with it and thought it would be a fun way to finish the trip.
I'd been stopped literally hundreds of times the last few years by people saying, "Has anyone ever told you that you look like David Letterman?"
I never got annoyed and played around with it sometimes. I happened to be in San Francisco a few years ago the same time Letterman was doing his shows from there. His face was on the sides of buses and on billboards. It was everywhere. I walked into the Hard Rock Cafe for lunch and every waitress in the place stormed down to greet me.
There are dozens of stories like that, including what happened in New York City.
But enough of that.
Here's a shameless ripoff of Dave's Top Ten Questions on what it was like to be "that guy who looks like me" in the audience.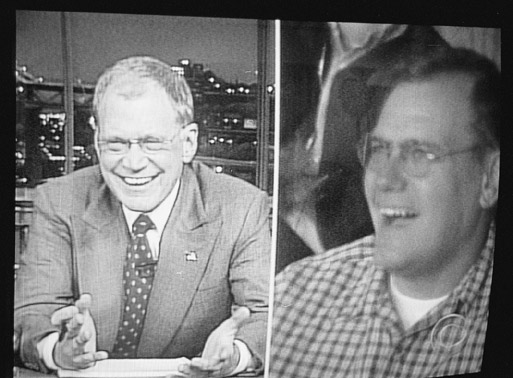 10. How did you get tickets?
We went to the Ed Sullivan Theater Sunday and signed up for them. Two girls with notebooks took our names and asked us questions about the show itself. Whitson knew about the characters on the show, I knew about Letterman's background. I even mentioned the high school Letterman attended in Indianapolis, "You guys are on," said the screener. We passed with flying colors.
9. How cold was it in the Ed Sullivan theater?
48 degrees. That's common, I'm told, for most television shows because of the heat produced by the television lights.
8. Did you know your picture was also on a commercial the night before the show?
Not until my wife told me the next morning. My father-in-law knew I was in New York and was watching CBS when the commercial came on at 9:15. His comment? "That other guy sure looks a lot like John."
7. Did you hear you were mentioned on Live with Regis the next day?
Not until later. Regis' new co-host, Kelly Ripa, was a guest on Letterman's show the night I was there.
6. If you could have said one thing to David Letterman, what would it have been?
Has anyone ever told you that you look just like John Ring?
5. What was Dave's reaction when he saw you?
He stared at me for what seemed an eternity. I wasn't sure if he was surprised or annoyed or angry. But I figured I had put up for years with people bugging me about how I look like him so he could take it himself for a few minutes.
4. Are you really going with Letterman to be on the Oprah Winfrey show?
Who knows? He said I would be going, along with Paul Schaffer and his Mom and he repeated it two nights later when he showed my picture on the couch next to Oprah. Bush's popularity and polls soared after he kissed Oprah on the cheek during the 2000 Presidential campaign. Maybe lightning will strike twice.
3. Who was "The Stooge"?
It wasn't Mike Whitson. Everyone thought it was ñ even his wife ñ but it was a guy named Neil Correia, who owns the Terranova Bakery in Rego Park, N.Y. (Shameless plug: Neil's bakery is at 63-54 Wood Haven Blvd. and is on the 'net at www.terranovabakery.com). I met him while we were standing in line and he's a pretty cool guy. He was sitting in front of me before the show started and Letterman did a brief monologue and took questions. Neil stood up and asked Letterman, 'Did you know you have a twin brother and that he's sitting right behind me?' That's how it all started. So when Letterman referred to "some stooge that got up before the show", both Neil and I got a big kick out of that. And Whitson whispered to me, "I'm glad that I didn't stand up." It didn't matter. Everyone in Galesburg still thinks that Mike Whitson was The Stooge.
2. Did you get backstage?
Yes. The three of us were leaving the theater when Jeremy Weiner, a writers segment coordinator for the Late Show, stopped us on the street and invited me backstage. I asked if my two friends could come along and he said no problem at all. They gave us a tour of the stage and back room, offered us refreshments and Jeremy got my name and phone number for future reference.
1. So what was David Letterman like?
I never met him. Three things I regret: (1) I didn't ask if Letterman was still there, so we could have gotten a chance to talk with him. None of us wanted autographs but Whitson had sent him an art print on the September 11th tragedy that was Fire Department related, so we wanted to make sure he had received it. And I have to admit, it would have been great to see him closeup and talk to him, even if it was just for a minute or two. (2) I should have fired up a cigar and (3) When our picture was taken at Letterman's desk, I should have propped my feet up on top of it.
---
Uploaded to The Zephyr Online December 3, 2001

---
Back to The Zephyr