I gave at the office
By Mike Kroll
As Illinois creeps toward the new fiscal year in beginning July 1 without a budget Governor Pat Quinn talks about draconian measures that would have to be enacted under the "doomsday" scenario. One of the publicly funded sectors of the state economy yelling the loudest are the legions of non-profit entities who provide many essential services on-behalf of state government under contract or grant funding of various state agencies. If you think of a societal problem there is a non-profit organization devoted to addressing that problem; as long as the state pays them to do so.
Under Quinn's doomsday budget many of these agencies will see their state money slashed or eliminated all together and they are enlisting the media in stirring up the pot of the citizens-at-large with colorful emotional tales of unmet needs of our least advantaged neighbors. These non-profit agencies are what used to be called "charities" and in most cases amount to the state privatizing services that were once performed by state agencies themselves. Most even continue to operate in the traditional manner of a caring charity where dedicated employees work hard for often small wages because the cause is noble but a growing number of these non-profits have also become a lucrative piggy bank for a small number of executives at the very top.
Illinois' economy was a huge mess before the national dilemma and has only gotten much, much worse since. While Quinn attempts to persuade Illinois lawmakers to pass a realistic new budget for the next fiscal year that includes additional state revenues to close the projected $11+ billion gap without wholesale sacrifices in government services. Meanwhile the leaders of both parties try to avoid any public responsibility for raising taxes by insisting on further unspecified budget cuts be devised by Quinn's staff before they will agree to even a "temporary" tax increase. It seems increasingly unlikely that Illinois will have a real budget in place anytime soon.
When we hear or read about the plight of clients who will go unserved as non-profits are forced to cut services due to far less available state money or the many lower level employees who will be laid off or terminated due to lack of funds it does tug at our heart strings. Who doesn't want the developmentally disabled or the mentally ill or at risk juveniles or victims of domestic violence to be properly served or protected? It is easy to side with the positions of the vocal non-profit agencies until you realize that for some non-profit is just a different way of accounting.
Locally we have heard much about the impact to chronic mentally ill clients of Bridgeway, our local community mental health center. Recent lean years before the current crisis have seen reductions in staff and small or no salary increases for remaining staff while a small cadre of top Bridgeway managers continue to earn princely salaries by area standards. Back in 2006, the most recent year in which data is publicly available the top two Bridgeway officials earned a combined total exceeding a half million dollars.
By Illinois statute non-profit organizations operating within Illinois are required to submit annual reports including their general finances and audit results as well as the IRS Form 990 tax return for non-profits. This information is compiled by the Illinois Attorney General's Charitable Trusts Bureau into an on-line database (www.ag.state.il.us/charities) that is easily searchable by anyone with an Internet connection. These annual reports "are due within six months of the organization's fiscal or calendar year end" yet in most cases we found the most recent available data to be three years old (2006).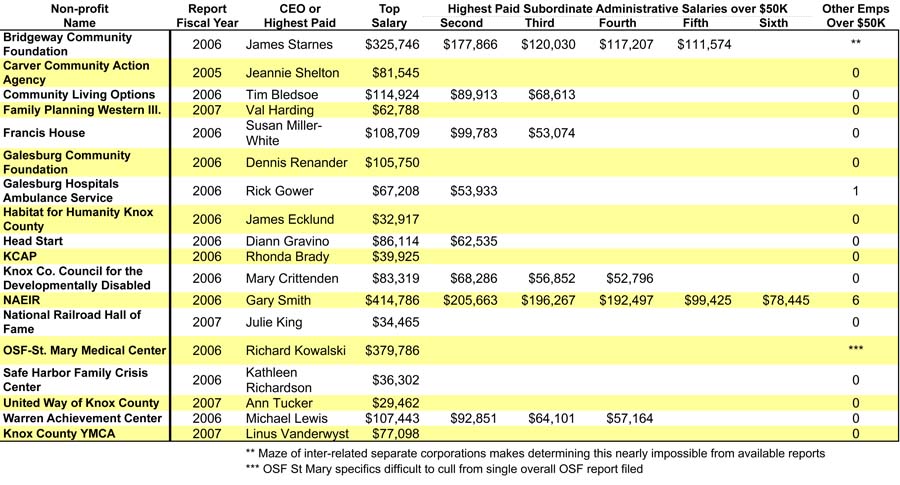 The table accompanying this article shows executive salary data for 18 local non-profits. The reports require that the salaries of top management or directors be itemized (including company-paid retirement or other benefits) and asks for the number of non-management employees earning over $50,000 annually. All of these organizations depend upon either government money or charitable giving for the vast majority of their income. The table shows the name and salary of the top paid administrative employee identified in the reports but only the salaries of subordinate administrative staff earning over $50,000. This table only represents a subset of registered non-profits, those with the highest administrative salaries and others who obtain a very substantial amount of their budget from government contracts or grants.
No one in this table compares to the multi-million dollar salaries we hear about on Wall Street or among the top CEOs of America's largest corporations but some are exceedingly well compensated by local standards. Consider that Illinois Governor Pat Quinn is paid $177,000 or that the Illinois median household income was $54,124 in 2007. It seems curious that while there has been a public outcry for caps on executive compensation for Wall Streeters there seems to be little interest or concern about those top charitable executives who pay themselves handsomely even as they reduce services to clients or layoff general staff to economize.
Critics of excessive corporate executive salaries have placed much of the blame on the boards of directors of those for-profit entities that are responsible to shareholders to oversee executive compensation but typically recruited by the corporate CEO. This is really no different at non-profits except often times the boards apparently answer to no one in the absence of shareholders and their independence from the non-profit CEO can often be even more suspect.
Clearly a good number of local non-profits do not over-compensate their executive leadership and many not included in this table are managed entirely by volunteers. Is it possible to question the non-profit status of an organization by virtue of apparently excessive executive salaries? Should the state be in a position to put caps on the salaries of non-profit executives whose organizations exist merely to act as a agent of government in providing services to the poor, the sick or the disabled?
6/18/09