Dan Proft: Revolutionary Republican
by Mike Kroll
photo by Norm Winick
the Zephyr, Galesburg, Ill., October 1, 2009
Dan Proft, a 37-year-old from Chicago (via suburban Wheaton) is perhaps the most conservative and confrontational candidate who has so far entered the 2010 Illinois Governor's race. A man running a campaign based on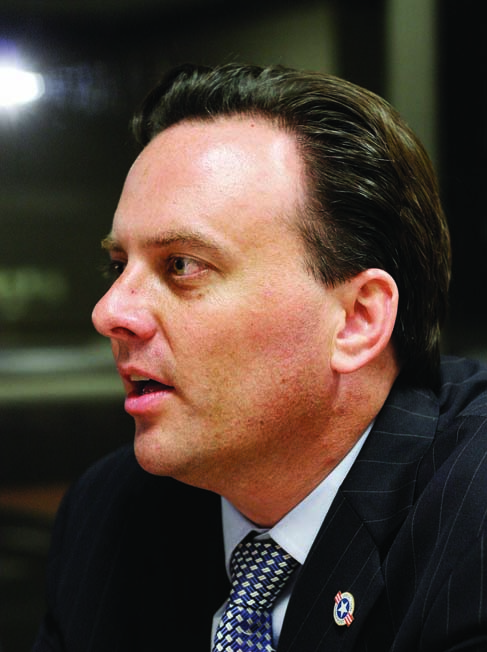 consistent principles unsullied by the typical checkered history of politically pragmatic allegiances. He is an unapologetic supply-sider who believes government is too big and is running roughshod over the private sector.
Proft has spoken scathingly against Governor Pat Quinn and Comptroller Dan Hynes, who is challenging Quinn in the Democratic primary, for their "high tax, free spending ways" and being beholden to both state employee unions and the state government bureaucracy. But he is equally critical of his fellow Republican challengers, State Senators Bill Brady and Kirk Dillard, former Illinois GOP chair Andy McKenna, Dupage County Board chair Bob Schillerstrom and businessman Adam Andrzejewski; who Proft groups together as "hold the line" tax and spend Republicans who support the failed status quo in Illinois. He says the best these fellow Republicans can do in contrast to the Democrats is to raise taxes and spending at a slower pace. He accuses them, particularly those who have served in Springfield, of being part of the bi-partisan cabal that runs the state. Our problems weren't caused by Pat Quinn or even Rod Blagojevich or George Ryan. They go back to Jim Edgar and Jim Thompson.
No one can accuse Proft of "holding the line" on state taxes. He promises to cut both the state personal and corporate income tax rates by 50 percent and eliminate the state estate tax. "We must reduce taxes on people and businesses that play by the rules so we can stem the tide of population and businesses fleeing Illinois," says Proft. He claims that Illinois has lost over 735,000 residents over the last decade (a figure disputed by some of the other candidates and in conflict with Census bureau estimates) and he blames that on extreme taxation. "I've proposed zeroing out the state death tax. Why don't Grandma and Grandpa retire in Illinois? It's not just because of the climate. It's because they want to leave the wealth they've accumulated over a lifetime to their children — and not to Mike Madigan."
Proft came to Galesburg to speak to the Galesburg Area Chamber of Commerce Wednesday morning during a series of campaign appearances across western Illinois. Wearing a conservative dark suit (tie still snug) and looking remarkably refreshed during a late-night interview in Knoxville, Proft was open, candid and personable. He spoke easily, in detail and without any apparent reluctance about every issue brought up and evidenced a bright self-confidence that never approached arrogance.
Proft earned his political credentials by working on the campaigns of others as "a small businessman" political consultant. He admits he's made some mistakes, such as encouraging Alan Keyes to run for the Senate: "the worst 68 days of my political life." He's also been a commentator on radio (at WLS in Chicago) and in print. Proft is a partner in a political consulting firm, Urquhard Media, named after a fictional political character Proft characterizes as "one of the most diabolically Machiavellian creatures in the history of politics." As both a political consultant and politician, Proft is very, very serious and plays to win — even if his playbook is a wee bit more circumspect than Urquhart's.
Trained as a lawyer, Proft has apparently never practiced law. He considers himself "an outspoken conservative voice for political reform in Illinois" and a social conservative who is just as opposed to the death penalty as he is to abortion in all cases or gay marriage.
He has adopted an especially antagonistic response to "the hostile climate businesses face in Illinois." He claims that other states just as Maine and Indiana have lower taxes and are faring much better. To Proft, lowering taxes is the solution to just about all of society's ills.
Proft makes the case that "The Illinois Republican party doesn't really exist any more because they have failed to present a convincing alternative governing vision based on clearly stated conservative principles. The Republican party in this state needs to define a constituency and make our case to them. For me those are the people who play by the rules and all too often get taken for granted to fund government activities that don't serve them. These people have already sacrificed far too much. I believe I have a logically and politically consistent message that can bring retired Republican voters out of retirement and help put me in the state house."
He noted that 190,000 fewer Republicans voted in the 2006 primary in Illinois than did in 2002. Those voters "stopped serving a Republican Party that was indistinguishable from the Democrats," he said. "When we blur distinctions, when we parse words, people take a walk. As Republicans we need to restrain the public sector from cannibalizing the private sector so this state can once again flourish economically."
Proft believes that the size and expense of state government can be dramatically reduced by concentrating on what he sees as its core missions rather than promoting the bureaucracy and catering to state employee and teacher unions. "Over the last decade, inflation-adjusted state spending has outgrown the rates of both inflation and population growth by a factor of eight! We govern as is there is no accountability for the expenditure of tax dollars. My opponents talk of management changes and they fail to see the need for systemic changes. I don't want to tinker with state government, I want to implement revolutionary structural change in how we operate and fund state government."
Among the state expenditures Proft would totally gut immediately are funding for the third Chicago airport in Peotone, the 2016 Olympics, the high speed rail initiative and half the $1.4 billion state budget for economic development.
In addition to dramatically reducing state taxes, Proft wants to implement statutory spending caps at the state level. "The growth in state spending should never exceed that of population growth plus actual inflation. I want to be especially punitive to elected officials. No state elected official should be paid more than the state's median household income and not only shouldn't they get raises unless that figure rises, their pay should be reduced in equal measure as that figure drops. The citizens and taxpayers of this state shouldn't be forced to sacrifice just to insure a comfortable life for elected officials and overpaid state employees who compose the bureaucracy."
Proft says he hasn't totally lost sight of the responsibilities of government; he says he's committed to public safety, improving education and caring for those who are incapable of caring for themselves.
"Illinois' current K-12 public school system is a total failure and it isn't how much we spend but how we spend it that has brought us to this point. The school-aid formula is too complex for even Steven Hawking to decipher and we throw more money into schools that deliver the poorest results. In Illinois we don't fund education, we fund teachers unions and a bloated and duplicitous bureaucracy at all levels. In America we believe competition produces the best value in goods and services in every sector of the economy — except education."
To Proft, achieving such competition involves a full-scale voucher system where any child who qualifies for the free or reduced school lunch program (i.e., family income no greater that 185 percent of the poverty level) gets vouchers equal to the amount the state would pay to the local public school for each child. These vouchers can then be used to help pay for that child's education at any school of the family's choice — public, private or parochial.
And just to further demonstrate that Proft isn't toeing the party line, he acknowledged that far too many inmates in Illinois prisons are serving time for nonviolent offenses and should be more effectively handled in other far less costly ways. "It makes absolutely no sense to arrest someone for minor drug possession, put them in jail so they can be schooled in a life of crime and do nothing to treat what is essentially a public health issue." For his similar proposal, he complimented Governor Pat Quinn but then added, "Quinn used releasing inmates as a scare tactic, 'Give me a tax increase or I'll put criminals back on the street."
"Look, I'm not a White Knight but where my opponents like to talk about someday making changes in Illinois government I am absolutely committed to radical change and I fully expect to deliver marked improvement in the state business climate within my first 24 months in office."