Rod Blagojevich stops in Galesburg

By Norm Winick

Rod Blagojevich was an hour late for his Galesburg appearance last Thursday. It was easy to see why. He stopped and talked to everyone he encountered on his way into Old Main -- including a few union workers and some political volunteers and local politicians (including the Mayor and the Sheriff) who were outside to greet him.

Despite his youth, the front-runner in the race for Illinois Governor knew that the late politician should be a funny politician. He started by explaining to the 70-or-so supporters why he's giving up a safe seat in Congress to try and break the Republican stranglehold on the Governor's mansion. ''The last time we had a Democratic Governor, Elvis was still playing Vegas.'' the huge Presley fan explained.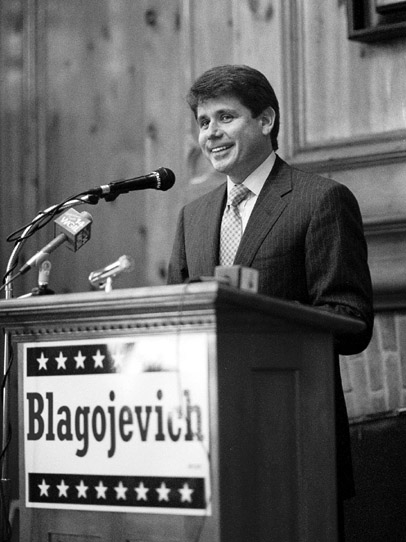 Blagojevich is touring Lincoln-Douglas debate sites in this phase of his campaign; he's already been to Quincy, Anna-Jonesboro, Ottawa and Alton. ''Lincoln lost that election, which gives me hope -- as the shorter candidate.''
Blagojevich, who's of Yugoslavian descent, said he's ready to be Governor by virtue of his experiences in a wide range of arenas. ''I went with Jesse Jackson to Yugoslavia when it was being bombed. I was the only elected official on the mission to free several American hostages held by Slobodan Milosevic. In my mind. I was worried about being taken hostage myself; I knew Bill Clinton would get Jesse out but he didn't owe me anything. During the talks, Jackson, in introducing me, told Milosevic, 'your homey wants to say something.' Milosevic was dumbstruck; he didn't know what the word meant and thought he was being insulted. It wasn't until one of the translators finally convinced him it meant 'somebody from your old neighborhood' that the negotiations could proceed.''
''One of the perks of being a Congressman is that when the President of your party comes to your district, you get to be with him. Clinton was in Chicago for a speech in 1997 and, even as a freshman Congressman, he treated me with great respect. After the day's events, he asked if I wanted a ride back to Washington on Air Force One. I accepted. After showing me around the plane, he said he was going back to his office for some meetings but I was free to use the phone to call anybody, anywhere in the world. I did. I called my mother in Chicago. She didn't ask about meeting the president. She didn't ask about Air Force One. All she said was, 'don't let that man get you in trouble.'''
Blagojevich gave a few details about his plans as Governor, including one to attack the teacher shortage in the state. ''I will propose a plan to recruit and train teachers at all levels and at all locations in Illinois. I think we should offer individuals willing to teach for five years at a public school in Illinois free tuition at one of our state institutions.'' In addition to more teachers, Blagojevich also said that Illinois schools must refocus their efforts on reading. ''I was not a great student; I was not even a good student. But I did learn how to read and once you have that tool, everything else will come.''
Aware of concerns that a Chicagoan might not be sympathetic to the needs of downstate Illinois, Blagojevich says he wants to create an ''Illinois Opportunities Fund'' for downstate. ''It would be a fund of venture capital targeted to downstate business recruitment, expansion and growth. A similar plan is working in Oklahoma. It can be done here.''
Besides education end economic development, Blagojevich said his other mission will be to end the ''culture of corruption'' that permeates Springfield. ''I want to end the cesspool of cynicism that is swirling around the state capital. We are all paying a corruption tax because our government officials are so preoccupied with saving themselves, they're not doing their jobs. The legacy of the George Ryan administration is that the public has grown accustomed to corruption. I am running to give the government back to the people of Illinois.''
After his talk, Blagojevich mingled with the crowd and then answered a few questions from reporters. He explained why he didn't mention his opponent, Jim Ryan. ''It's not that the voters are confused by the two Ryans. I think they can tell them apart. But they are both part of the same system, the same culture of corruption. Jim Ryan in the chief law enforcement officer of the state and he has done nothing about government graft and corruption.''
Blagojevich voted for the USA PATRIOT (Uniting and Strengthening America by Providing Appropriate Tools Required to Intercept and Obstruct Terrorism) act of 2001 which some have criticized as compromising civil liberties in the name of security. ''We must balance freedom and security. When you consider the threat to our security -- innocent civilians being attacked -- we have to act. We will have to constantly monitor the effectiveness of our actions, be vigilant, and revisit the civil liberties issues as they arise.''
He's been attacked by Jim Ryan for a proposal he once made in the Illinois House to raise the Firearm Owners Identification card fee to $500. Blagojevich says that was a mistake. ''It was a time in Springfield when we were debating raising user fees and increasing revenue to cover expenses. Relying on some bad advice, I floated the idea and it went nowhere. It really struck a nerve. I pledge today, as I have throughout this campaign, that I will never raise the FOID card fee -- not a dime, not a nickel, not a penny.''
Blagojevich sees economic opportunities to expand Illinois' agricultural exports -- but not to the same regions as George Ryan. ''I agree with his sentiment that we must open up new markets for Illinois products. I also agree that we should end the embargo on Cuba and I voted to relax travel restrictions for Americans. But as long as George Bush is President and Jeb Bush is Governor of Florida, that will never happen. Instead, we should work on opening up markets in India -- with their billion people -- and in sub-Saharan Africa. Those are markets that need what we produce and we can trade with freely. That's where our efforts should be concentrated.''
Unless Rod Blagojevich makes a major stumble, this bird lover, Elvis fan, and late-blooming student of history may well be on his way to being the first Democratic Governor of Illinois since Dan Walker's term ended in 1976. The history of corruption in Illinois government goes back a lot longer than that and may be even tougher to thwart.

---
Uploaded to The Zephyr website August 14, 2002

---
Back to The Zephyr home page at: www.thezephyr.com

---