The surprising Aaron Schock
by Mike Kroll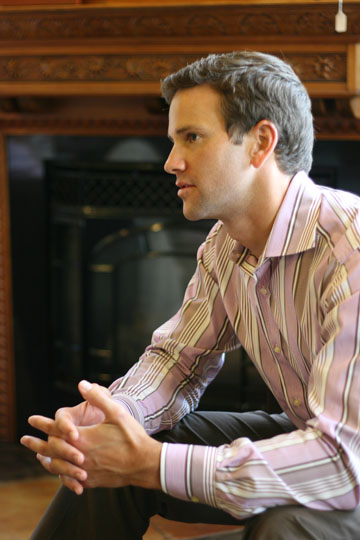 The Zephyr, Galesburg, Ill.
August 19, 2010
"The easy vote is always to follow the party lead and adhere to the talking points and while that may play well at election time it isn't the best way to serve your constituents. An effective Congressman needs to be more independent and willing to cooperate with whomever offers the best chance to get legislation important to your district or state passed. The measure of a solid congressman is when and how he casts those hard votes." —Aaron Schock
Freshman legislator Aaron Schock, the youngest member of Congress, is facing his first reelection bid in Illinois' sprawling 18th district. Not only is he a Republican in what's been a safe Republican district for over 100 years but Schock is also one of his party's budding political stars at the age of 29. He has certainly not been treated like the typical freshman; not only was he named to three congressional committees (very rare), he was also appointed deputy minority whip by Eric Cantor — making Schock a junior member of the House Republican leadership.
The congressman visited Galesburg last Friday to tour the BNSF rail yards and sat down for an interview later that afternoon as thunderstorms raged outside. Schock sits on the House Transportation and Infrastructure committee and represents the eastern portion of Knox County, but not Galesburg. "I get over to Galesburg somewhat often and even though it is technically outside my district it's not that far outside my district and shares much in common with the Peoria area."
It also doesn't hurt that voters, simply love Schock and his story. Running as a dark horse write-in candidate for the Peoria School Board, he easily won a seat at just age 19 while he was a student at Bradley University. Two years later his fellow board members elected him vice president of the board and the next year, at 23, he was elected board president. But the energetic and ambitious Schock immediately set his sights on the state representative seat held by four-term Democrat Ricca Stone and won. Schock served just two terms in the Illinois House before successfully running to replace the retiring Ray LaHood in 2008.
Shortly after the 2009 beginning of his congressional career, the Huffington Post named the youthful, exuberant and attractive Schock "the hottest congressional freshman. More recently he served as a celebrity judge on the television program "Top Chef." Schock recalled with a big grin, "It was a blast to do and I really did eat all of the various dishes that were prepared and they were all wonderful. If I had any real need at this time I would have been happy to hire any one of those contestants to be my chef."
Because of his age and "hotness," Schock has had opportunities most freshman Congressmen don't. As a candidate, he was allowed to speak at the Republican National Convention in 2008. Since his election, he has been a guest on many of the major talk shows, including This Week and Meet The Press. "David Gregory spent some time watching my YouTube® videos before inviting me on Meet The Press." Schock was a guest with Democratic consultant Donna Brazile on This Week and they were both asked whether Elena Kagan's sexuality should have any bearing on her evaluation as a Supreme Court Justice. The moderator was clearly expecting an argument between the two but Schock agreed with Brazile that it was irrelevant to her confirmation process. He wouldn't say whether he would have voted for her confirmation if he were a Senator but did say that voting against her and with his party was the easy choice even though it didn't serve democracy well.
Schock's predecessor, Ray LaHood, was an unabashed moderate Republican, as was his forerunner, the 20-term Bob Michel, but in today's Republican party no one wants to be so labeled. Schock makes most of the required conservative noises, primarily on fiscal issues, and has described himself as a Reagan Republican. But, like many House and Senate members who aren't outspoken in the political press, the reality of Schock's political perspective is both pragmatic and realistic.
"Those of us not in the upper levels of party leadership leave it to the leaders to throw bombs at one another while we do our best to work together to get things done. My very first legislative accomplishment in Washington was an amendment that I co-sponsored with Barney Frank (a liberal Democrat from Massachusetts). Things are actually much more collegial on a day-to-day basis in Congress than most people appreciate. Very little can really get done without cooperation and compromise and outside of the headlines, that is the norm. Usually the best solutions are bipartisan."
Schock is refreshingly open and candid during the interview, very likable and nobody's fool. He recognizes how important agriculture and the related industries are to both his district and Illinois as a whole and places a lot of emphasis on those issues, even if he doesn't serve directly on any ag committees. "We really need a comprehensive energy policy that addresses energy independence as well as the environment and serves our economy as well." He supports ethanol, particularly the movement toward use of ethanol-gasoline blends with higher levels of ethanol and he dismisses those who complain about using food crops to create fuel. "The corn farmers in my district have seldom suffered from insufficient crop yields, quite the contrary, and the economics of ethanol is far more solid that detractors claim. With today's fuel prices I don't really even see the need to maintain the ethanol subsidy, the numbers today will permit the industry to succeed on it own. Ethanol is really a no-brainer." Schock says that the ethanol producers in his district, which includes the largest plants in the nation, would be willing to see the 54¢ a gallon subsidy that goes to the oil companies for blending the ethanol into their gasoline end. "They think their product is cost-effective without giving the blenders the government money but my farmers don't see it that way at all. They are afraid that without the subsidy they'd be sitting on a massive surplus of grain."
Regarding red-hot political issues like immigration reform, Schock acknowledges that the system is broken and needs to be fixed but also that a fair commonsense approach to legal immigration is a necessity. Border security is important to Schock but he believes that the actual impact of those undocumented immigrants already in place is far less negative than portrayed by radical opponents.
As a former school board member, Schock sees much to be redone about our educational policy. "No child left behind simply has to be revisited and modified. The effectiveness of schools and teachers must be based on growth-based educational testing. We need to assess student achievement not against imaginary standards but as a comparison between where a student was last year with where she is today. And we need to accept that not all students are the same. Special needs students require different assessment and goals from mainstream children and the special students most often falling through the cracks today are the gifted."
Schock is concerned about the budget deficit and, unlike most of his colleagues, actually recognizes that tax policies are just as important a component as spending. "Just as we failed our constituents in not passing a badly needed transportation bill this session, so too must Congress deal with taxes." It is always politically dangerous for any politician to openly speak of tax increases and the current Republican position is vociferously opposed to any tax increases but Schock recognizes that a responsible solution will necessarily involve changes in tax policy that will yield more revenue.
And the continual need for more jobs is very important to central Illinois and Schock. Like a good number of his Republican colleagues, Schock regularly appears at announcements of projects made possible by stimulus spending despite his opposition to President Obama's Recovery Act. And he has taken note that throughout much of Illinois and his district the effects of the recession continue to linger. Perhaps nowhere has been more affected by the recession than the State of Illinois and Schock does believe it is necessary for the federal government to assist the struggling states but he frets about where the necessary money will come from.
He also is concerned about the state of the truth in the nation. "I am constantly having to correct people who call me with something they heard on TV or in a blog that just isn't true. I have to point them to the actual bill or tell them that it's just not true. It used to be that when you read something in a newspaper, you could believe it. And that's still essentially the case with the new York Times or the Washington Post or even USA Today, but too many people read something on the internet or hear something on TV that is just fiction — or worse. Then they call our office all upset about something and we have to try to correct them — and they don't always accept that."
Besides the transportation bill, "there are many important issues that remain unresolved in this session of Congress but I just don't see that changing. I'm afraid that Congress won't accomplish anything substantive before the November elections and many critical bills will carry over into either the lame-duck session or the next Congress."