Bones about it: recent Knox grad invents tool to revolutionize knee replacement surgery
by Mike Kroll
School projects are a hallmark of American education. Who among us didn't complete multiple dioramas in grade school or a science fair project in junior high? While the educational value of such projects runs the spectrum from just plain fun to enlightened epiphany most are hardly memorable weeks later and very few affect the lives of thousands of people. One recent Knox College graduate may well illustrate that rare example of a honors project promising longterm positive consequences for medicine.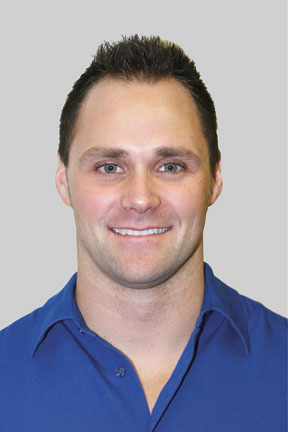 Chris Snell of Alexis is not your typical recent college graduate. For one thing, the tall, athletic-looking young man with short dark hair and a comfortable air of confidence about himself is a few years older that the typical college graduate and he remains at Knox working as laboratory coordinator in the Biology department. For another he is well on his way to receiving a patent for a medical device he invented as his Knox honor project that has already in regular use by local orthopedic surgeon Steven Potaczek.
At first glance Snell's bone clamp looks like just another stainless steel surgical instrument but it may just be the prototype for a line of custom-designed bone clamps that will be used by surgeons across the world and the start of a career for this 2008 Knox College graduate. It has been mere weeks since Snell began the patent process but it may well take three years to finally receive the patent. In that time this young man expects to be developing additional devices and earning royalty payments from the licensed manufacture and sale of his bone clamp.
"This has really been an amazing experience," said Snell. "I have worked really hard on this project but there is no way it could have happened without the extraordinary support and assistance I have received from Knox College, Dr. Potaczek and especially [Knox president] Roger Taylor. So many people have aided me so much in making this project successful. There is no question that without their help I could never have accomplished this."
Talking to Chris you can't help but come away impressed by how unassumingly bright he is as well as his ambitious, clear-eyed plan for his future. Only a few years ago Chris was, by his own description, digging muddy ditches and laying conduit as an apprentice union electrician. "I spent nearly five years in the electrical union apprentice program and was learning a good trade that could earn me a solid living but I just wasn't enjoying the work. I felt I was spending too much time on comparatively menial tasks that didn't offer me the mental challenges I need. That is why I applied to Knox and began on the pre-med track that eventually led me to this point in my life."
A critical component of Knox's pre-med program is serving a medical-related internship. Snell was assigned to OSF St. Mary Medical Center and the Galesburg Clinic where he met Potaczek during a surgical rotation.
"I was watching Dr. Potaczek in surgery doing a knee replacement and noticed that he seemed to be laboring to properly hold the bone as he removed part of it. After he was finished and we were talking about the operation I commented on this and said I thought the instrument he was using didn't seem to work too well. He agreed and told me that he had never found an bone clamp that was properly designed for this task and really wished someone would come up with such a device."
Such was Snell's inspiration but as he quickly learned developing a new medical device or instrument is a long, complicated and costly process. The young man had two major assets at his disposal however, Potaczek and Knox College. The former worked very closely with Snell to help determine what was needed and to accommodate a variety of different bone sizes and committed to actually using the prototype instrument n surgery to test it in action. Knox supported the endeavor financially and by helping Snell fabricate the prototypes out of surgical-quality stainless steel. Taylor took a very personal interest in Chris and his project and directly put him in touch with a Milwaukee law firm specializing in patents.
In the acknowledgment of his Knox Honors Thesis Snell wrote of Potaczek: "If he wouldn't have sat down with me, over a year ago, to patiently answer my questions and discuss his surgeries, I would not have had the opportunity to pursue this project." Additionally he thanked Knox professors Judy Thorn and Linda Dybas (Biology) and Charles Schultz (Physics) who very actively served on his committee.
The human body and its component parts are amazing in their variety, particularly in size and shape. This presents unique challenges to surgeon who need specialized tools to perform their work. As surgical techniques advance or change there is a constant need for new variations on established instruments.
"A better surgical instrument can be a real advantage to both the surgeon and patient," explained Snell. "In the case of the clamps previously used during knee replacement surgery there just wasn't one specifically designed to grasp and hold the tibia enabling fast and easy removal of the portion at the knee joint. Often times a surgeon would find existing tools slipping or breaking the portion of the bone being removed and generally making the procedure take longer. My tool maximizes the surface contact area with the bone allowing the surgeon to apply uniform pressure with the use on just one hand. This greatly speeds up the surgery and reduces almost completely the problem of retrieving broken fragmentation from the removed section of bone."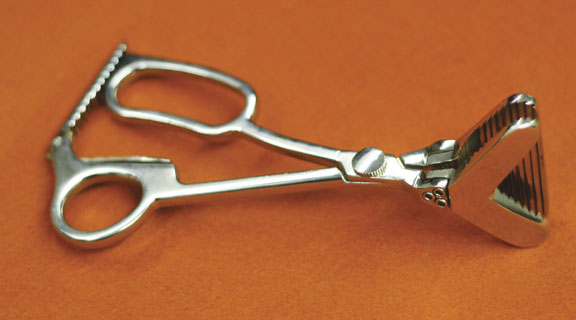 The tibia is commonly known as the shin bone. It is the second largest bone in the human body and the larger of two bones in the lower leg that joins with the femur (the largest human bone) at the knee joint. In a total knee replacement the top portion of the tibia must be removed to permit attachment of the man-made replacement knee joint assembly. Snell's tool was designed just for this purpose and even permits the surgeon to replace the two clamping surfaces to suit the size of the patient's tibia.
Despite all the support Knox College provided Snell during this project, including a not-insubstantial financial commitment, college officials signed an agreement declaring him sole owner of the invention and patent. "They told me that this was the first time a Knox student had completed a project like this that led to a patent and Roger Taylor took a special personal interest in both me and my project. I will forever be grateful and if this becomes a financial success I intend to share some of that with Knox."
When he began this project Snell had an ambitious goal in mind. He wanted to provide a better surgical outcome for patient and physician alike. If preliminary results are any indication he will succeed. Potaczek now regularly uses one of the three prototype clamps Snell has fabricated and at least one other orthopedic surgeon in Peoria was very impressed when he used a borrowed copy of the clamp The next step for Snell will be contacting firms that manufacture and sell surgical instruments in an attempt to license his design and see it sold nationally or internationally. He hasn't given up on his desire to attend medical school but he now sees his interest in developing additional medical instruments as superseding his desire to practice medicine. In any event he seems to be a young man with a very bright future ahead and yet another extraordinary Knox College graduate.
11/13/08