Hobby or retirement occupation?
By Mike Kroll
For much of the previous week the weather had not been kind to participants in Galesburg's Stearman Fly-in but it seemed damn near perfect on Saturday afternoon. The national economy and the price of fuel are said to have led to slightly reduced participation in this year's 37th annual event but there still seemed to be plenty of vintage planes and pilots in attendance.
One such pilot was Paul Hankins of Fremont, Mich. Hankins retired as director of aviation services for Gerber foods and devotes much of his time to the care, upkeep and flying of his Stearman. "I bought mine in 1986. It was sold as in 'flyable condition' but actually it had become pretty ratty while in storage so I had to spend a good deal of time rebuilding it before I could enjoy flying it."
Many owners of these propeller-driven biplanes are wealthy fans of the World War II era training plane. In a number of cases the Stearman is just one of a small fleet of planes but nearly all will tell you that for the shear thrill of flying few other planes come close to their Stearman. "This plane is a joy to fly, especially low and slow but with the constantly growing forest of cell phone towers you really have to fly higher these days, unfortunately," noted Hankins with fondness.
Perhaps the reason so many Stearman owners are wealthy is that this isn't a cheap hobby. Most Stearman owners either bought their plane in good flying condition for the price of a nice Galesburg-area home or bought a plane that needed lots of care and then spent a lot of money to have others restore the airplane. Beyond getting the plane in safe, flyable condition you have to store it, insure it, maintain it and fuel it for flying.
Hankins considers himself fortunate. "As an aircraft mechanic myself I can save lots of money by doing my own work. A good friend and I did all the restoration on my plane by expending much more of my time than cash and it took just over a year to complete. I am definitely not one of the rich Stearman owners and if I had to pay someone to do my maintenance I'm not sure this would be a practical hobby for me. But since I have the time and the skills and love to fly this plane things sort of worked out just fine."
The two-seat Stearman PT-17 or "Kaydet" was built out of a welded steel tube and aluminum fuselage with fabric covered wooden wings and a 215 horsepower Lycoming radial engine as a primary trainer aircraft for the U.S. Army and Navy in preparation for World War II. "You have to be very careful around the wings because they can easily be damaged." The spruce frame is covered in fabric that is then painted with a "weatherproof" urethane paint. These were quality-built but no-frill aircraft designed with a maximum airspeed of 124 mph and a range of 2-3 hours of flying time (~500 miles maximum distance). There were few creature comforts and "very basic instrumentation, no one was really expected to fly cross country in one of these planes – but today many do."
Creature comforts are virtually unheard of in a stock Stearman. Flying in one of these open cockpit planes is very, very loud and gets cold even in nice summer weather at low altitude. They are not comfortable or fun to fly in cold weather or at higher altitudes and simply not safe in bad weather. Storage is also spar, although most owners have become very creative in this regard.
<![if !vml]>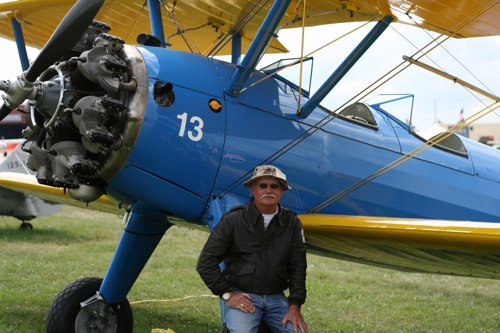 <![endif]>Designed almost 70 years ago there were reportedly over 10,000 Stearman's built but far fewer survive today. After the war many saw use as crop dusting planes or as then-cheap planes for private pilots but today they are collector's pieces. Modern lubricants and filters do a lot to enhance engine life and performance as well as lessen maintenance according to Hankins. He first flew a Stearman as a crop duster and ."..even though this plane is challenging to take-off or land it is pure enjoyment when you are in the air."
Hankins says he is a regular Galesburg Fly-in participant who first attended in 1985, "the year before I bought my own Stearman." Like most planes that come here he has kept pretty loyal to the original design of the aircraft. "I did add a radio and electric start for purely practical reasons but I can't think of anything else I'd want to change – it wouldn't be a Stearman if you did much more to it!"
091108