by Norm Winick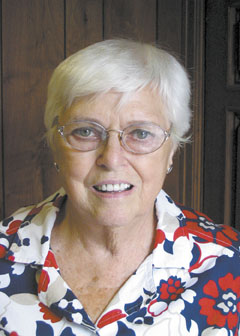 Yvonne O'Brien Tabb succumbed to esophageal cancer this week at the age of 82. She was a real trailblazer in Knox County politics.In 1970, shebecame the first woman since Mary Allen West in 1874 to be elected to county-wide office and the first Democrat to serve since the Civil War.
Her many accomplishments and good deeds have been detailed elsewhere and I won't rehash them. I first met Vonnie in 1974 as a recent Knox College graduate running for Knox County Treasurer. She was running for reelection as County Clerk. I witnessed the love and admiration expressed towards her throughout KnoxCounty. Thosefeelings never subsided and she won every race she ever ran. When Vonnie first ran in 1970, as the widow of a popular State Representative, Leo F. "Dune" O'Brien, some sympathy may have played a role in her initial success but her job performance guaranteed her future. At that time, Knox County was so Republican that her campaign was based on ads created by Craig Lovitt and Bob Swartz telling voters they could vote straight Republican and still cast a vote for her and fellow Democrat Rayder Peterson for Sheriff. Local Republicans considered it "dirty" politics but it was successful and they never were able to oust her. After retiring from the clerk's office, her hand-picked successor, Sally Blodgett, also met with electoral success.
Every one I've mentioned is gone now and a once-in-a-lifetime era in Knox County political history has ended.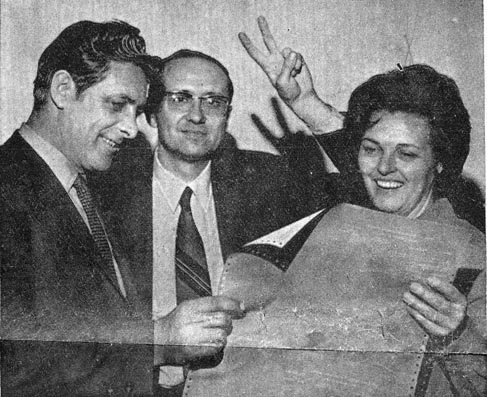 Sheriff-elect Rayder Peterson, left, Knox County Democratic Chairman Craig Lovitt, and Yvonne Tabb looking over election results on the evening of the November 1970 election. They were at Democratic Headquarters in the Bank of Galesburg Building. A local Democratic couple, Bill and June Wessels of Rio, brought a live donkey up the bank elevator for the occasion. For many years, Vonnie was the only Democrat to consistently win her elections.